PS Welcome - YouTube
All about PriceScope
Wed, 28 Mar 2012
Rio Tinto and BHP Billiton Un-Friend Diamonds...and Other Jewelry News
H1:
Rio Tinto and BHP Billiton Un-Friend Diamonds...and Other Jewelry News
By
Erika W.
Some of the latest stories in diamond and jewelry news...
Bloomberg: Rio, BHP Lose Faith in Diamonds Even as Prices Rise: Commodities
Rio Tinto Group (RIO) and BHP Billiton Ltd. (BHP) are looking to exit the diamond industry even as prices head for a fourth year of gains, because they see little prospect of repeating the dominance they hold in iron ore.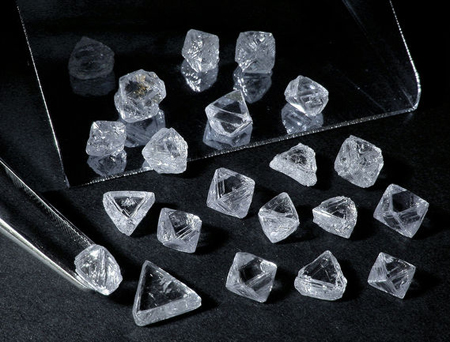 Image: De Beers Group via Bloomberg
JCK: Appeal Filed in De Beers Antitrust Case
As expected, objecting lawyers have taken their issues with the De Beers antitrust settlement all the way to the Supreme Court.
IDEX: KP Compliance Training and Jewelry Certification at Vicenza
Ways of tracking and labeling jewelry as manufactured and traded in an ethical manner will be examined at a high-level seminar taking place on the sidelines of two global meetings in Vicenza, Italy in May.
Israeli Diamond News: OGISystems LTD assimilated a new Symmetry technology in several labs around the world
OGI Systems, the leading global company for technological solutions to the diamonds industry, recently began assimilation of a unique technological solution for automatic symmetry grading of Round Brilliant diamonds...
Rapaport: U.S. Consumer Confidence Improves in March 2012
U.S. consumer confidence rose 11 percent year on year to 70.2 points in March, according to The Conference Board.
NJ.com: The ring bearer: N.J. man able to give his gift to girlfriend six decades later
A starving Polish jeweler, liberated from a Nazi concentration camp by soldiers from Gen. George Patton's Third Army, asked Pvt. Dave Kershaw if he'd like him to make duplicate "pre-engagement" rings from two U.S. silver dollars...
JCK: Social Media: The Dark Side
Last week's post about social media drew some great comments, with most promoting the good side of social networking for jewelers. To give a fully rounded picture, I wanted to address some of the pitfalls as well...
More Diamond and Jewelry News:

All About The World's First All-Diamond Ring

Fabergé to Launch Online Boutique on April 16

Dana Schneider's Mockingjay Pin for 'The Hunger Games'