By
Erika Winters
Diamond Prices News Roundup – April 2015
Retail diamond prices edged higher in April following increases in March. Retail diamond price changes are based on Pricescope's database of over 450,000 diamonds from retail stores. Read more about diamond price changes below.
Retail Diamond Price Changes for April 2015
0 to 0.5 carat: -2%
0.5 to 1.0 carat: +2%
1.0 to 2.0 carats: -1%
2.0 to 3.0 carats: no change
3.0 to 4.0 carats: no change
4.0 to 99 carats: +2%
Pricescope Updated Retail Diamond Price Chart
Pricescope has been charting retail diamond prices since 2007.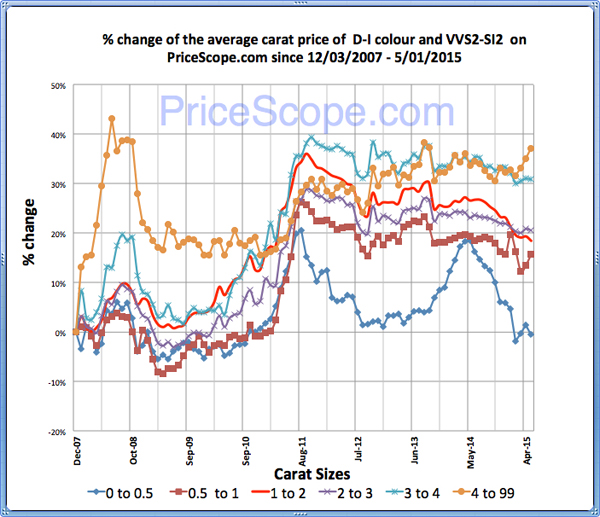 Read some of the latest stories in diamond price news…
Rapaport: Polished Diamond Prices Stabilizing in April
Diamond markets were quiet in April. Many polished diamond suppliers did not lower their prices even though liquidity and profitability remain tight.
IDEX Online Research:
April Polished Diamond Prices 'Unsteady'

After a sharp decline late in 2014 and early 2015, global polished diamond prices rose in April, extending a trend which began in March.
Bloomberg:
De Beers Said to Cut Diamond Prices in Surprise Blow to Anglo
De Beers, the world's largest diamond producer, surprised traders by cutting the price of gems at its latest sale, people familiar with the process said.
CNBC: Are cheaper diamonds a sign of something bigger?
Diamond prices have tumbled almost 15 percent over the past 12 months and that has Nicholas Colas, chief market strategist at Convergex, eyeing a larger trend.
Related:
U.S. Jewelry Spending Is Up, Millennials Buying More Than Any Other Age Group