By
Erika Winters
Diamond Prices News Roundup – March 2015
Retail diamond prices increased in March following price dips in January and February. Retail diamond price changes are based on Pricescope's database of over 450,000 diamonds from retail stores. Read more about diamond price changes below.
Retail Diamond Price Changes for March 2015
0 to 0.5 carat: +2%
0.5 to 1.0 carat: +1%
1.0 to 2.0 carats: no change
2.0 to 3.0 carats: +1%
3.0 to 4.0 carats: no change
4.0 to 99 carats: +2%
Pricescope Updated Retail Diamond Price Chart
Pricescope has been charting retail diamond prices since 2007.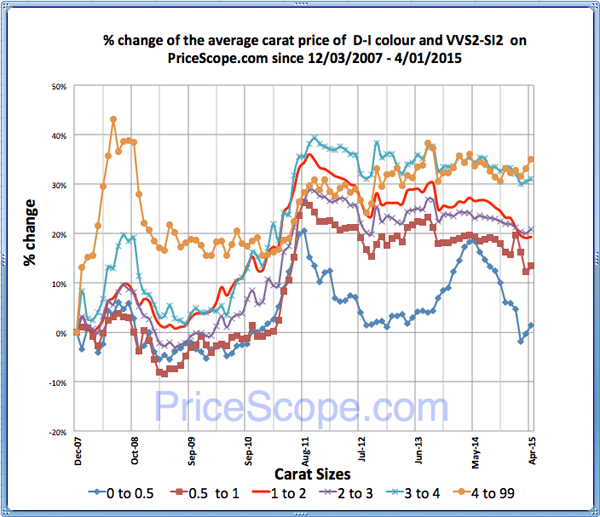 Read some of the latest stories in diamond price news…
Rapaport: Polished Diamond Prices Fall in March
Polished diamond prices softened in March as trading volume was restricted by weak demand.
IDEX Online Research:
Polished Diamond Prices Rise in March
Following several consecutive months of price declines since the summer of 2014, polished prices trended upwards during March 2015.
The Wall Street Journal:
De Beers Toughens Up Diamond Finance
The miner, owned by Anglo American, is introducing new rules into the clubby world of diamond buying, asking customers to present their accounts in accordance with international standards.
JCK: How Dealers Are Trying (and so Far Failing) to Influence the Rapaport List

A few weeks back, about 20 major Indian manufacturers listed their diamonds on RapNet priced at full "list" (Rapaport) price.
Related:
U.S. Jewelry Spending Is Up, Millennials Buying More Than Any Other Age Group