By
Erika Winters
Diamond Prices News Roundup – February 2015
After significant declines in January, retail diamond prices remained stable for 1.0- to 4.0-carat diamonds in February. Prices for 0.5- to 1.0-carat diamond dropped by four percent while prices for 0- to 0.5-carat diamonds rose by two percent. Prices for 4.0- to 99-carat diamonds in the Pricescope database increased by one percent. Retail diamond price changes are based on Pricescope's database of over 450,000 diamonds from retail stores. Read more about diamond price changes below.
Retail Diamond Price Changes for February 2015
0 to 0.5 carat: +2%
0.5 to 1.0 carat: -4%
1.0 to 2.0 carats: no change
2.0 to 3.0 carats: no change
3.0 to 4.0 carats: no change
4.0 to 99 carats: +1%
Pricescope Updated Retail Diamond Price Chart
Pricescope has been charting retail diamond prices since 2007.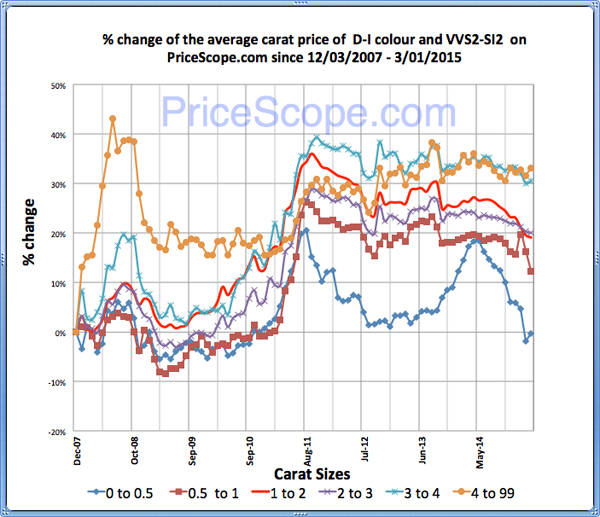 Read some of the latest stories in diamond price news…
Rapaport: Polished Diamond Prices Decline in February
Polished diamond prices remained under pressure in February.
IDEX Online Research: Polished Diamond Prices Drift in February

Global polished diamond prices drifted in February 2015.
Bloomberg:
De Beers Sees Potential to Increase Diamond Prices This Year
De Beers, the world's biggest diamond producer, said there's scope for gem prices to increase this year after an industry credit crunch led to a decline in the final quarter of last year.
Rapaport: De Beers February Sight Estimated at $550M

De Beers February sight closed with an estimated value of $550 million and rough diamond prices declined an estimated 2 percent to 3 percent, on average.
Related:
Retail Diamond Prices Dip in January