By
Erika Winters
Diamond Prices News Roundup – January 2015
Retail diamond prices for all of Pricescope's listed carat weights dipped in January. Retail diamond price changes are based on Pricescope's database of over 450,000 diamonds from retail stores. Read more about diamond price changes below.
Retail Diamond Price Changes for January 2015
0 to 0.5 carat: -7%
0.5 to 1.0 carat: -3%
1.0 to 2.0 carats: -2%
2.0 to 3.0 carats: -1%
3.0 to 4.0 carats: -2%
4.0 to 99 carats: -1%
Pricescope Updated Retail Diamond Price Chart
Pricescope has been charting retail diamond prices since 2007.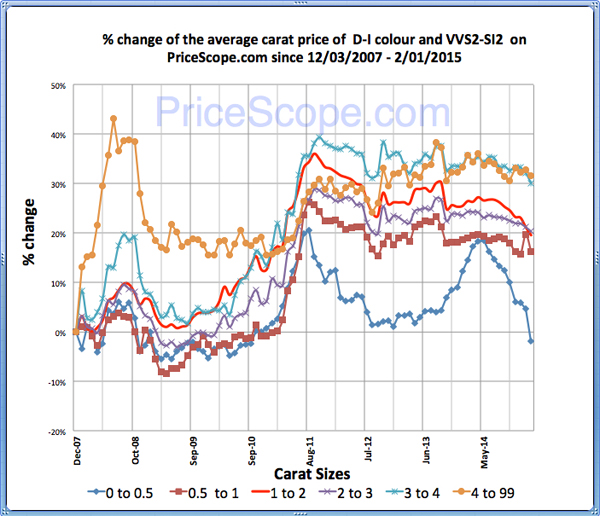 Read some of the latest stories in diamond price news…
Rapaport: Polished Diamond Prices Decline in January
Polished diamond demand improved in January but prices remained under pressure. Jewelers are resisting buying large quantities of diamonds as inventory levels remain higher than usual for this time of year.
IDEX Online Research: Polished Diamond Prices Remain Depressed in January
After falling sharply in early December 2014 and trending lower for the remainder of that month, polished diamond prices remained depressed in January 2015, according to the IDEX Index of Polished Diamond Prices. Diamond prices have not fallen to the current level since early 2011.
Reuters Africa:
Gem Diamonds says diamond prices could remain weak in early 2015
Diamond miner Gem Diamonds Ltd said it saw weakness in diamond prices in the fourth quarter that could continue in early 2015, and that it mined fewer diamonds at its flagship Letseng mine in the period.
CNN: Diamonds are getting cheaper. Time to buy?

The price of just-mined diamonds is falling. But the outlook for the prices consumers pay is less clear.
Related:
Retail Diamond Prices Down Slightly in December