By
Erika Winters
Diamond Prices News Roundup – December 2014
Retail diamond prices for most of Pricescope's listed carat weights dropped slightly in December with the exception of a 4% increase for diamonds in the 0.5- to 1.0-carat range. Retail diamond price changes are based on Pricescope's database of over 450,000 diamonds from retail stores. Read more about diamond price changes below.
Retail Diamond Price Changes for December 2014
0 to 0.5 carat: -1%
0.5 to 1.0 carat: +4%
1.0 to 2.0 carats: -2%
2.0 to 3.0 carats: -1%
3.0 to 4.0 carats: -1%
4.0 to 99 carats: no change
Pricescope Updated Retail Diamond Price Chart
Pricescope has been charting retail diamond prices since 2007.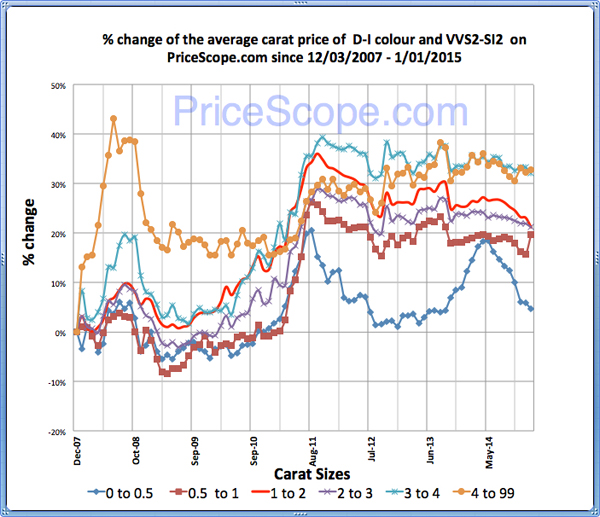 Read some of the latest stories in diamond price news…
Rapaport: A Happier Year Ahead?
Diamantaires were happy to see the back of 2014.

IDEX Online Research: Uncertain Consumer Demand Leads to Drop in Polished Prices
Global polished diamond prices fell in December on both a monthly and yearly basis, according to the IDEX Polished Diamond Price Index.
The Times of India:
Diamond buying on rise among Indian middle class
Diamonds have become best friends of middle class Indian consumers.
The Economic Times: Difficult to lift rough diamonds unless prices drop, say manufacturers

As polished diamond prices have dropped by 2% 5% due to indifferent demand across the globe, Indian diamond sightholders are refusing 20%-30% of their usual rough off-take from mining companies…
Related:
Retail Diamond Prices Stable in November