By
Erika Winters
Diamond Prices News Roundup – November 2014
Retail diamond prices were relatively stable in November following decreases in October. Prices for most listed carat weights remained unchanged with the exception of a 1% decrease for diamonds in the 4.0- to 99-carat range. Retail diamond price changes are based on Pricescope's database of over 450,000 diamonds from retail stores. Read more about diamond price changes below.
Retail Diamond Price Changes for November 2014
0 to 4.0 carats: no changes
4.0 to 99 carats: -1%
Pricescope Updated Retail Diamond Price Chart
Pricescope has been charting retail diamond prices since 2007.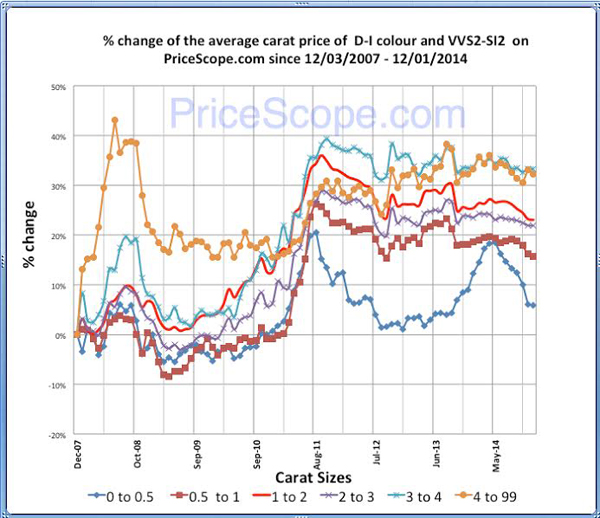 Read some of the latest stories in diamond price news…
Rapaport: Polished Diamond Suppliers Reduce Prices in November
Polished diamond prices fell in November as suppliers lowered prices in an effort to raise cash flow.

IDEX Online Research: Polished Prices Rise in Nov After Oct Decline
After a sharp decline in October, global polished diamond prices recovered somewhat in November 2014…
Rapaport: The Diamond Decade So Far
This was supposed to be the diamond decade.
National Jeweler: Index tracking fancy color diamond prices launched
A new global organization launched Wednesday that will focus on tracking prices and supporting sales of fancy color diamonds, particularly yellow, pink and blue stones.
Idex: Bain, AWDC Report: Demand Outlook Solid But Many Obstacles
In its fourth annual report on the global diamond industry, Bain & Company forecasts a solid outlook for diamond demand, but cautions that access to diamond financing, particularly for the middle market, could hamper future market growth, the Antwerp World Diamond Centre (AWDC) said in a statement.
Related:
Retail Diamond Prices Down in October