By
Erika Winters
Diamond Prices News Roundup – October 2014
Retail diamond prices continued their downward trend in October following decreases in September. With the exception of diamonds in the 3.0- to 4.0-carat and 4.0- to 99-carat ranges, prices for listed diamonds fell further in October. Retail diamond price changes are based on Pricescope's database of over 450,000 diamonds from retail stores. Read more about diamond price changes below.
Retail Diamond Price Changes for October 2014
0 to 0.5 carat: -4%
0.5 to 1.0 carat: -2%
1.0 to 2.0 carats: -1%
2.0 to 3.0 carats: -1%
3.0 to 4.0 carats: +1%
4.0 to 99 carats: +3%
Pricescope Updated Retail Diamond Price Chart
Pricescope has been charting retail diamond prices since 2007.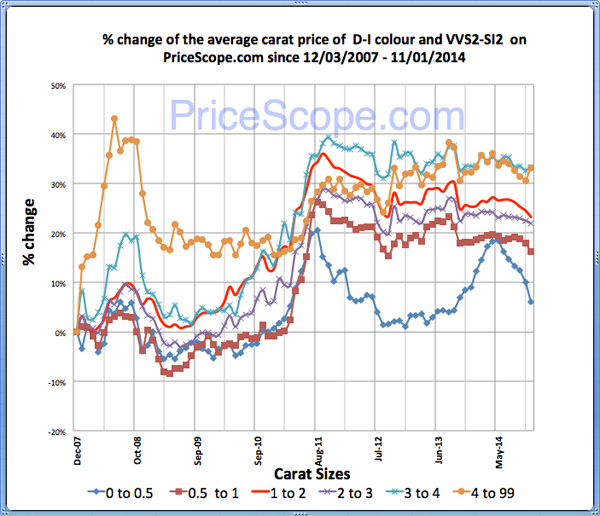 Read some of the latest stories in diamond price news…
Rapaport: Polished Diamond Prices Fall in October
Polished diamond prices continued to decline in October as suppliers sought to increase turnover and raise liquidity levels.

IDEX: The IDEX Online Polished Price Report for November 6, 2014
There were many more changes in prices this week of round diamonds than in past weeks, with most price changes being negative especially in smaller stones, according to the weekly IDEX Online Price Report.
Tacy: Petra Diamonds Records 55% Growth in Q1 Revenue
Petra Diamonds Ltd produced 833,744 carats during the first quarter of fiscal 2015, ended September 30, 2014, a year-over-year increase of 2 percent, signifying what Petra describes as 'the highest quarterly production in the company's history.'
Bloomberg: Diamond Trading on Web Shines Light on Murky Gem Dealers
Six diamond dealers meet to bargain over $1.5 million of uncut stones. They're not in Tel Aviv or Antwerp. They're in the cloud.
The Wall Street Journal: Giant Diamonds Lure Investor Cash to Botswana
What's worth $28 million and fits in your pocket?
Related:
Retail Diamond Prices Continue Modest Downward Trend in September