By
Erika Winters
Diamond Prices News Roundup – September 2014
Retail diamond prices continued their modest downward trend in September following decreases in August. Retail diamond price changes are based on Pricescope's database of over 450,000 diamonds from retail stores. Read more about diamond price changes below.
Retail Diamond Price Changes for September 2014
0 to 0.5 carat: -2%
0.5 to 1.0 carat: -1%
1.0 to 2.0 carats: -1%
2.0 to 3.0 carats: no change
3.0 to 4.0 carats: -1%
4.0 to 99 carats: -1%
Pricescope Updated Retail Diamond Price Chart
Pricescope has been charting retail diamond prices since 2007.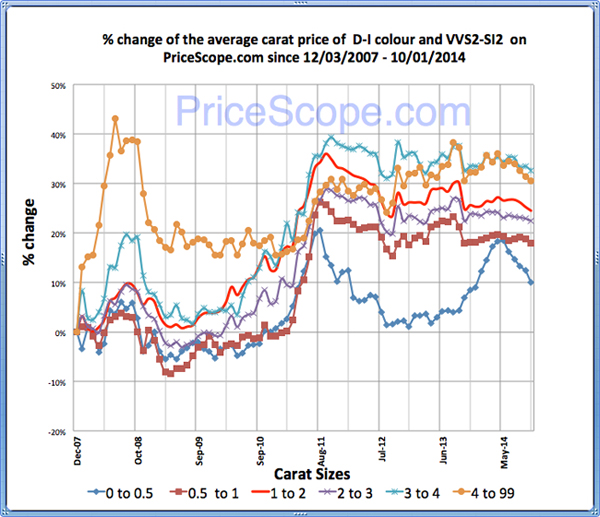 Read some of the latest stories in diamond price news…
Apart from the positive first quarter of 2014, when polished prices rose, average prices have been on a consistent, gradual decline. As a result, September marked the end of another weak quarter for the diamond trade.

IDEX Online Research: Polished Prices Down Slightly In September
The IDEX Online Polished Diamond Index decreased in September to 133.1 from 135.7 in August. In round items, all sizes showed marked decreases.
The Wall Street Journal: Diamond Prices Continue to Fall
Larger diamonds lead the downturn as taste among Chinese buyers shifts.
Bloomberg: Diamond Hunters Give Up Search for Gems Too Hard to Find
Diamonds are so hard to find that explorers have pretty much given up trying.
Edahn Golan at Idex:
Puff … There Goes $1.9 Billion in Diamond Financing
Nothing should have surprised the diamond sector about KBC's announcement that it is closing down the operations of the Antwerp Diamond Bank (ADB).
Related:
Retail Diamond Prices Edge Lower in August