By
Erika Winters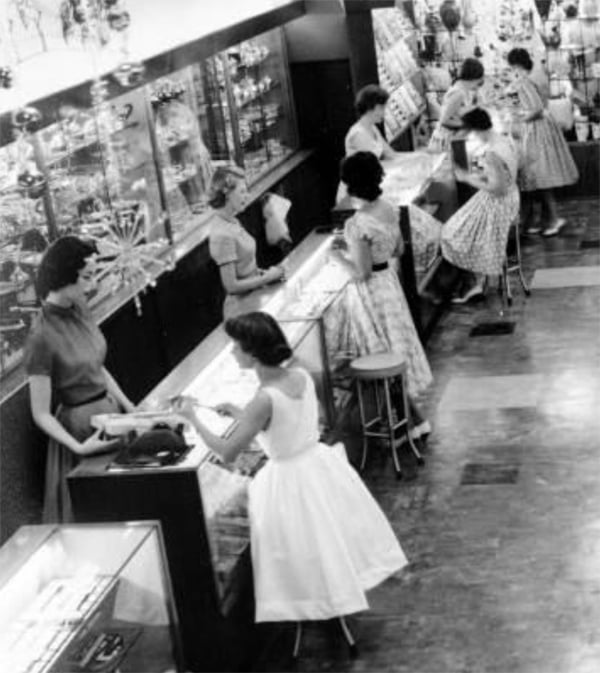 Jewelry showroom circa 1950. Image courtesy of Edahn Golan Diamond Research & Data.
Move over baby boomers and aging Gen Xers, millennials are now spending more on jewelry than any other age group according to a new report from jewelry industry analyst Edahn Golan. Download the full report here: The U.S. Jewelry State of the Market Report.
In the last year U.S. consumers between the ages of 25 and 34 spent 28% more on fine jewelry pieces than the average household. Though millennial spending is up, this highly tracked group of consumers is spending less on each piece they buy. They are also purchasing more jewelry from online retailers.
Due to increased millennial jewelry demand, U.S jewelry sales rose by 1.4% last year. Jewelry sales totaled $68.8 billion in 2014. Watch sales have also increased by 7.7%, according to the report. Per household, the average fine jewelry expenditure reached a record $434. With watches added, the average household jewelry expenditure rose to $612 last year.
And though many retailers concentrate on the holidays for promotions and sales, people are buying jewelry throughout the year. In 2014, sales around the U.S. Christmas holiday dropped by 1.2%.
"The US Jewelry State of the Market Report contains precious data never before seen in the diamond industry, including detailed demographic breakdowns of who is buying what and for how much. It proves that millennials, today's 20-35 year olds, are driving consumer demand for diamond jewelry in a way that is different from their parents. They are spending more and buying less in a market that is sometimes overwhelmed with product choice," said Edahn Golan.
Key points from the report:
• Age group between 25-34 spent 28% more than average household
• Consumers are buying more jewelry but at a lower price-per-piece
• Fine jewelry sales in the US reach $68.8 billion
• Watch sales reach $9.13 billion, increasing 7.7%
• Buying season spans throughout the year, with sales during traditional holiday season dropping 1.2%