By PS Staff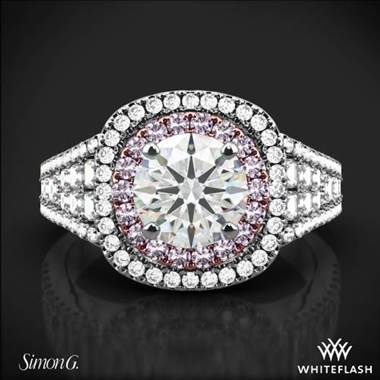 Simon G. Passion Double Halo Engagement Ring, $7,040

at Whiteflash
As you all know, we have been gearing up to attend JCK. Part of our preparations has been to delve into the vendors that you want to see in order to bring you the best. Some of our research includes looking at this year's trends to help us target exactly what will be happening in the diamond industry this year.
Lower Prices
Can you believe it that this year is the year that we see lower prices?! It's a bit amazing to us and I'm sure many of you are grateful and amazed. We believe that one of the reasons is the surge of fancy cuts in the market because of their popularity. One thing is for sure however, purchasing a 1.00 ct. diamond is much cheaper this year than it was last year.
Fancy Cuts
As we mentioned above, fancy cut diamonds are enjoying their heyday. Now, people are gravitating towards these cuts which in turn are causing many jewelers to add fancy cuts to their inventory faster than ever before. As of today, the most popular fancy cuts are oval, emerald, cushion and princess cuts. The two most visible celebrity engagement rings right now, Mariah Carey and Jerry Hall, are fancy cut engagement rings (emerald & marquise, respectively).
Pretty in Pink
Well, it's no surprise that the rise of the fancy cut has seen a rise in colored diamonds as well since fancy cuts tend to show color quite well. Pink diamonds, like the one Ben Affleck gave Jennifer Lopez a lifetime ago, are becoming quite popular all over again. Yet be aware, this color is rare so don't expect to find pink diamonds contributing to the lower diamond prices for 2016. These beauties cost a pretty penny, but they are so worth it.
In the Mix
Remember when it was a big deal for brides to decide if they wanted a yellow gold, rose gold, white gold or platinum setting for their ring? Well, jewelers have decided to make life easier by creating mixed metal rings. So, now you can enjoy a rose gold halo AND a platinum setting without having to choose. Not to mention, this look may be one of our favorite looks of the year.
This year is going to be a BIG one for diamond aficionados. Heck, we're super excited that spring is ushering in new looks and lower prices. Yet, we are smart enough to know that we can't cover it all. Don't forget to let us know what you want to see and which trends you're keeping your eyes on so click here, hit "post reply" and tell us what or who you want us to see when we're at JCK. We'll make a notation and do our best to visit the vendor's booth, get pictures and/or do a write-up in the Blog.
Visit our "Resources >> Jewelry Search" to browse for your favorite jewelry.