By
Erika Winters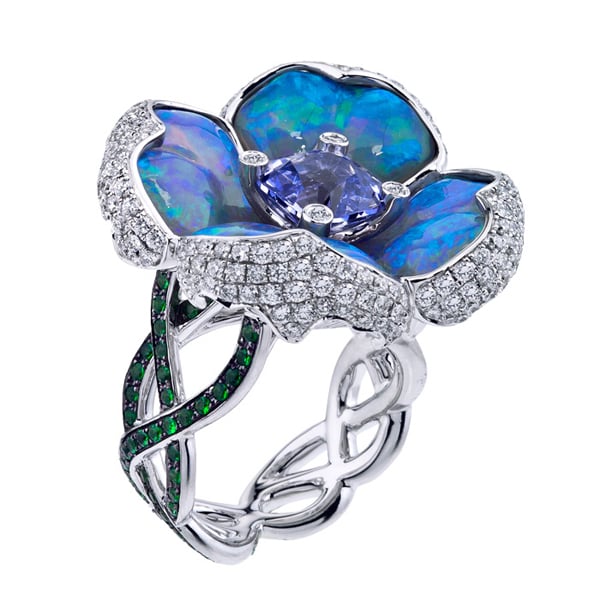 Lavender III ring by Katherine Jetter with 14.50 carats of crystal-opal petals with diamonds and tsavorite garnets in 18k white gold
Lush, sensual, and captivating, Katherine Jetter's designs take stunning opals on an incredible journey. Australian born, Katherine Jetter was first inspired by an opal that her parents gave her for winning the top International Baccalaureate art prize. And that opal, which she set in a simple ring setting, inspired a career in jewelry design that includes exotic creations that pay tribute to her Australian origins. Opal is Australia's national gemstone, as the country produces most of the world's supply.
Also striking is Ms. Jetter's use of gemstones in a vivid array of colors. Her combinations of colored gems, including tsavorite garnets, sapphires, and tourmalines reflect the myriad worlds of color often found in just one opal. Her designs make a statement, and with fine craftsmanship, the jewels stun in homage to her country and the natural world.
Katherine Jetter is the Aaron Faber Gallery's featured artist for March. To see her work in person, please visit the Aaron Faber Gallery in NYC. And visit Katherine Jetter's website to find more locations near you.
Q&A with Katherine Jetter
EW: What inspired your career in jewelry design?
Katherine Jetter: I have been passionate about drawing and art since I was a little girl, and I was born an entrepreneur. Creating a product that comes from the heart–and is most always an emotive gift–was what felt right for me as a designer. I love the science, geology, and culture behind gemstones–and sharing the story of their journey from nature to a beautiful object we can love and appreciate for generations.
EW: We are captivated by your use of opals. Describe how these gems inspire you and your designs.
Katherine Jetter: Coming from Australia and growing up in Europe, I noticed how our beautiful national gemstone was so unappreciated in the international world of fine jewelry. I was so sad when my parents decided to leave Australia and move us as kids to Europe when I was just 9 years old. I wanted to do something to put Australia on the map in my own little way, and I saw how much potential this beautiful gem had. If only people could see it and understand it as it deserved, and not just in a kangaroo silver key chain! lol! Once you fall in love with opal it never leaves you–these stones are so magical. When placed in fresh and elegant designs, they come to life in the best possible light. That is my mission, to show just how spectacular they are!
EW: Your organic motifs are particularly striking. How does the natural world influence your designs?
Katherine Jetter: My beautiful natural surroundings inspire me, and I bring it to life in my imagination, as if plants and animals could walk and talk. 🙂
EW: Which metals do you work with?
Katherine Jetter: Sterling silver, 18K yellow, rose and white gold. And 22K yellow gold and platinum. 22K yellow gold is my favorite!
EW: We love your Femme Fatale collection–in design and name! What inspired this collection?
Katherine Jetter: I love the Daintree Rainforest in northern Queensland, Australia. It is a magical lush, green rainforest filled with fern beds, moss, little creeks and tall, great big redwood trees. You can feel the trees moving and the plants breathing. It is so alive, and the plants take you on a journey. It feels a little bit dangerous, a little exciting, and a little bit sexy, all at the same time…!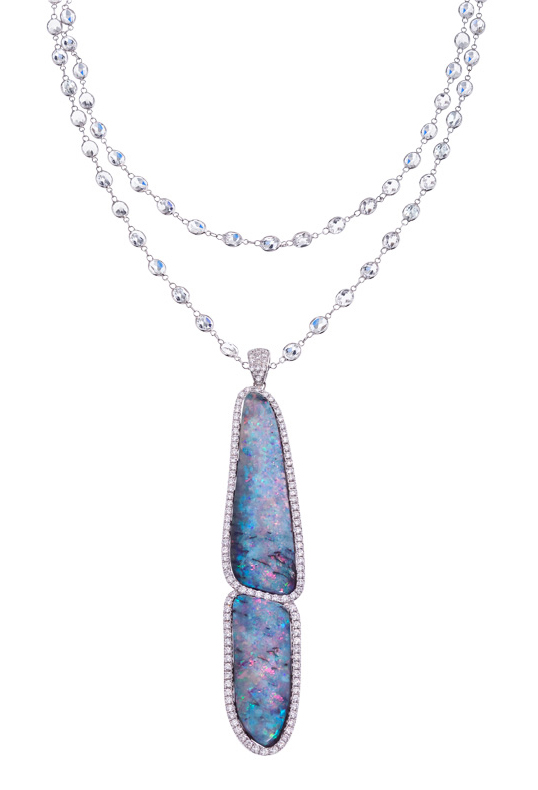 Northern Lights pendant by Katherine Jetter • 24.50-carat and 35.60-carat Australian boulder opals with diamonds in 18k white gold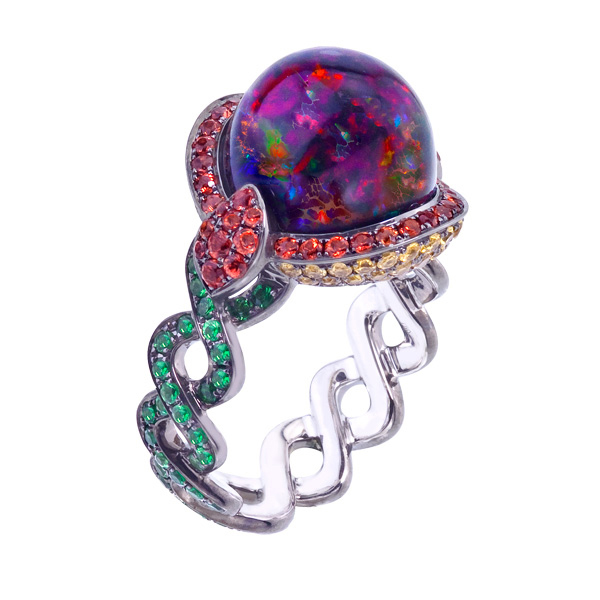 Femme Fatale III ring by Katherine Jetter • 6.50-carat Mexican opal with garnets and sapphires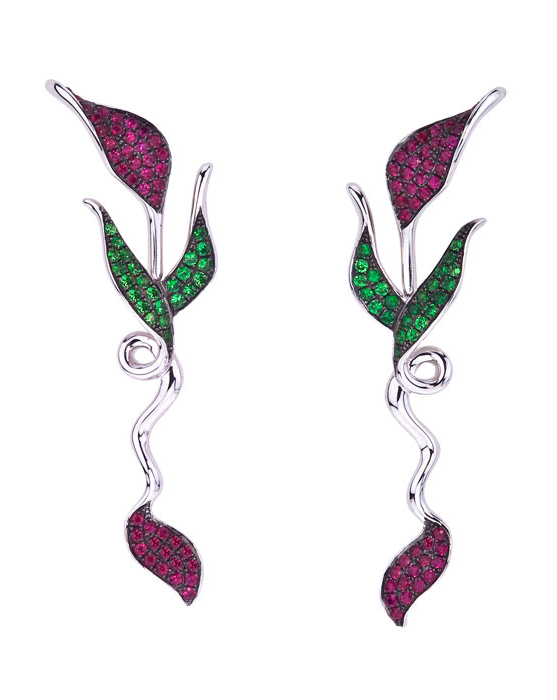 Femme Fatale earrings by Katherine Jetter with rubies and tsavorite garnets in 18k white gold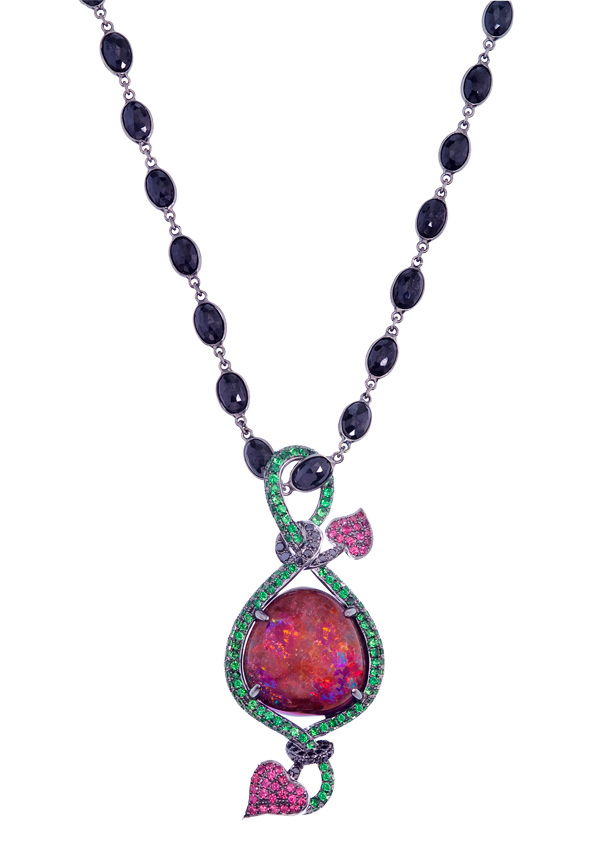 Femme Fatale pendant by Katherine Jetter with 7.9-carat Mexican opal with diamonds, rubies, and tsavorite garnets in 18k white gold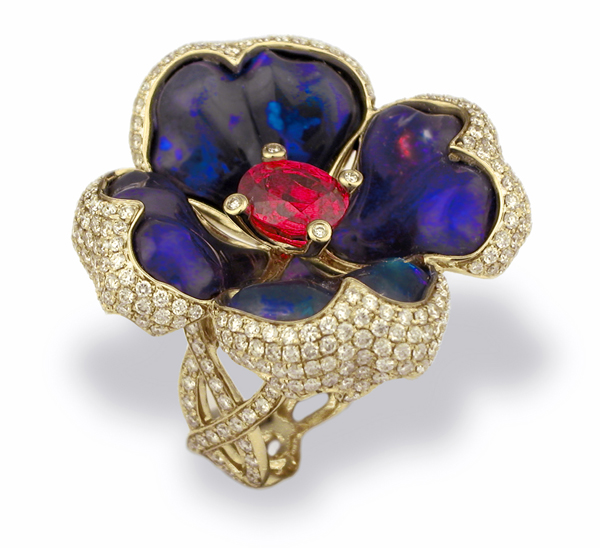 Queen Ruby II ring by Katherine Jetter with 14 carats of opal flower petals, a 1.80-carat orange sapphire, and diamonds in 18k yellow gold
Images courtesy of Katherine Jetter and the Aaron Faber Gallery.
More on the Aaron Faber Gallery:
Claudio Pino Adorns Stanley Tucci and Lenny Kravitz in "The Hunger Games: Catching Fire"
"Genius of Nature" Jewelry Exhibition at the Aaron Faber Gallery