By
Erika Winters
We are simply stunned by the amazing door prizes that our featured sponsors and contributing forum vendors have donated for our 4th Annual Pricescope Get-Together, which is this Saturday in Las Vegas! And today, we have yet another fabulous door prize to share–courtesy of Whiteflash!
Eligible consumer members attending the 2014 Pricescope Get-Together will have a chance to win this Simon G. diamond engagement ring setting in 18k rose gold from the Simon G. Passion collection. The ring is set with a 6.5mm round blue topaz and 0.48 ct. tw. in diamonds.
About Whiteflash and Simon G:
Whiteflash is proud to have been recently named an authorized distributor for Simon G., one of the very top designers in the bridal market. Prominently featured throughout their award winning collections are fashion-forward designs in rose gold, a major trend in jewelry today.
Selections from Simon G. line are available now to see in person in the Whiteflash Houston area showroom, and will be available online soon. Any Simon G. design is now available through Whiteflash, and they look spectacular set with an A CUT ABOVE® Super Ideal diamond!
Many thanks to Whiteflash for this generous donation!
Visit the 4th Annual Pricescope GTG in Las Vegas forum thread for more information.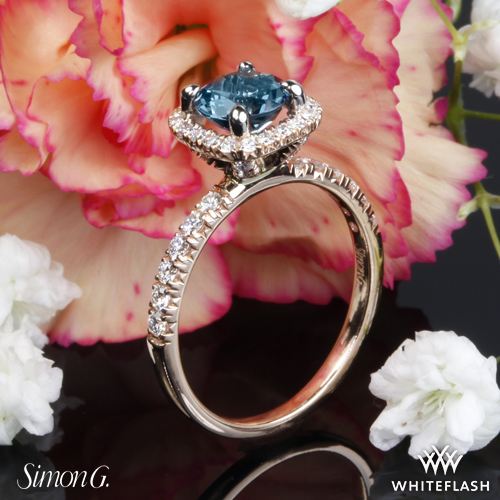 Pricescope consumer members attending the 4th Annual Pricescope Get-Together will have a chance to win this Simon G. halo ring from Whiteflash!
Whiteflash has also donated this Tacori Promise Bracelet and this "A Cut Above" Princess Cut Diamond! Special thank you to Whiteflash for all three lovely donations!