By
Erika Winters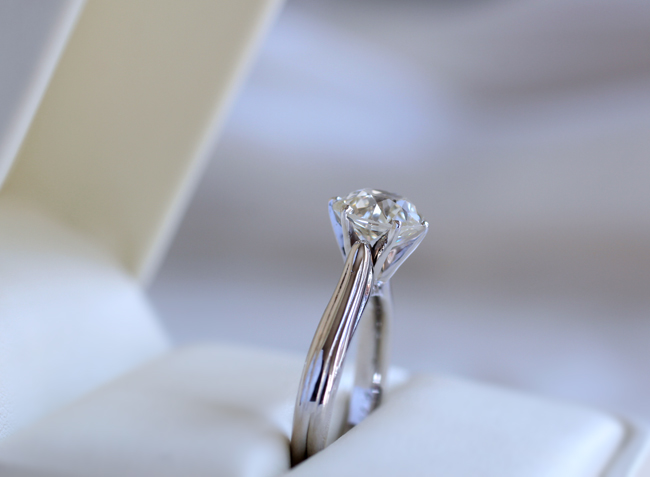 Second-time brides: What do you look for in an engagement ring?
If you take a look at most bridal jewelry advertising campaigns, you'll see ads featuring younger (twenty-something) couples about to take the big step in getting hitched. The men look nervous as they are about to propose. Will she say yes? The women cannot contain their excitement and tears of joy. YES!! They embrace. An engagement ring in a box appears on the screen. It's a simple solitaire (or a halo) set with a one-carat diamond. Cue the music.
And ads targeted to older couples generally feature "anniversary" or "show her how much you love her" jewelry pieces. Man surprises woman with a diamond pendant. She wraps her arms around him and whispers, I love this man. Cue the music.
Because we all marry young and stay together forever, right? And if you're a second-time bride, you just rinse and repeat, right? Not at all. Generally, second-time brides want entirely different engagement rings–especially if they didn't get to pick out the ring the first time. (Check out this post on "Surprise Engagement Rings" for more on that topic.)
The aforementioned jewelry advertising is selling youthful marriage and lifelong commitment–no surprise there–but the reality of marriage in the 21st century is much more interesting.
According to a Pew Research Center analysis of 2013 U.S. census data, four-in-ten new marriages involve remarriage.
"In 2013, fully four-in-ten new marriages included at least one partner who had been married before, and two-in-ten new marriages were between people who had both previously stepped down the aisle, according to a Pew Research Center analysis of newly released data from the U.S. Census Bureau."
The analysis also examines the rise of remarriage in the U.S. over the last five decades.
"All told, almost 42 million adults in the U.S. have been married more than once, up from 22 million in 1980. The number of remarried adults has tripled since 1960, when there were 14 million.
This increase has been fueled by several demographic trends, beginning with the rise in divorce, which has made more Americans available for remarriage. It has also been fueled by the overall aging of the population, which not only increases the number of widows and widowers available to remarry, but means people quite simply have more years in which to make, dissolve and remake unions."
What does that mean for second-time brides' engagement rings? We seldom see mainstream marketing campaigns include this important group of bridal-jewelry shoppers. Because bridal jewelry is generally all lumped into the same category–no matter what the age, marriage history, or sexual orientation of the shopper. The idea that "nothing says engaged like a Tiffany six-prong solitaire" is becoming a thing of the past. (And this goes for both first and second-time brides.) But if you are getting engaged all over again at the age of, say, 40, what would you choose as your engagement ring? Please sound off in this poll. We want to hear from you.
Related:

Surprise Proposal? Yes. Surprise Engagement Ring? Eh, Not So Much.

Poll: Women – Do You Take Off Your Engagement or Wedding Rings to Advance Your Career?


#LoveisLove: What Tiffany's Same-Sex Bridal Ad Will Do For Jewelers