By
Erika Winters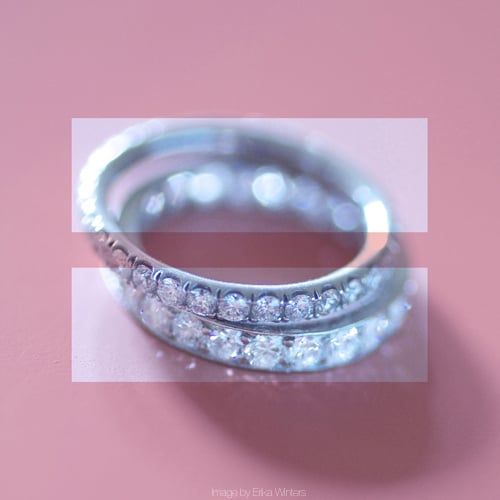 Image from my June 2013 personal blog post on same-sex wedding jewelry
When Tiffany makes a statement, people follow. And it may be Tiffany's latest "Will You?" advertisement featuring a gay couple that will push hesitant jewelers to the next level of acceptance…and marketing. You can see the upcoming ad campaign here.
Seems like a no-brainer, right? Couples are couples, and jewelers want to sell wedding rings. So from a purely economic standpoint, it makes no sense to reject any couple seeking betrothal jewels. I wrote about this topic on my personal blog back in June 2013, when the Supreme Court found a key part of the Defense of Marriage Act (the U.S. federal law that denied the right to liberty and equal protection to same-sex couples) unconstitutional.
I wrote:
If you're a retailer and you do not embrace same-sex marriage, you're missing out on a growing population of bridal customers. You're also increasingly at odds with the values of a consumer base that wants your services. If you're a same-sex bridal consumer–and many gay and lesbian couples have no difficulty finding bridal jewelers–you know that any eyebrow raised at your nuptials is absolutely and unequivocally absurd.
I run with a progressive crowd, and so the idea that a same-sex couple would be spurned at a jewelry store sounds ridiculous. But we must remember that approximately 40% of the U.S. population still does not agree to legalizing gay marriage, according to an ABC News/Washington Post poll released on May 9, 2013. But this will change.
And it already has. Over 30 U.S. states allow same-sex marriage. And savvy style websites like The Knot have been featuring gay weddings as part of their array of resources for brides and grooms-to-be. The Knot actually launched their Gay Weddings magazine back in June 2013.
At this time in our history, it's pretty hard to talk about about same-sex wedding jewelry and avoid politics. And at Pricescope, we generally avoid political topics for a very good reason. (Fights tend to break out on the forum when politics are broached, but we are now allowing some political conversations over on our Around the World forum.) I certainly have avoided political topics on this blog. And remember, all opinions in this blog post are my own. But Tiffany's upcoming ad has everyone talking, and that conversation is beneficial to all.
But really, it shouldn't take a Tiffany ad for jewelers to embrace same-sex wedding jewelry. And the tongue-in-cheek comments I've read about jewelers being able to "sell more diamonds" to same-sex couples aren't helpful either. Jewelers may need to take a step back and remember what wedding jewelry is all about–as these pieces are symbols of love and commitment. And when jewelers are earnest in their marketing about this important meaning, they reach more customers–same sex or otherwise.
So what will Tiffany's same-sex ad do for jewelers? A lot. It's just up to the jewelers to pay attention and cater to this growing customer base.
Join the forum discussion:

Tiffany launches same-sex engagement campaign

Related Blog Topics:

Jewel(s) of the Week – Love Times Two: Hers and Hers Engagement Rings