By
Erika Winters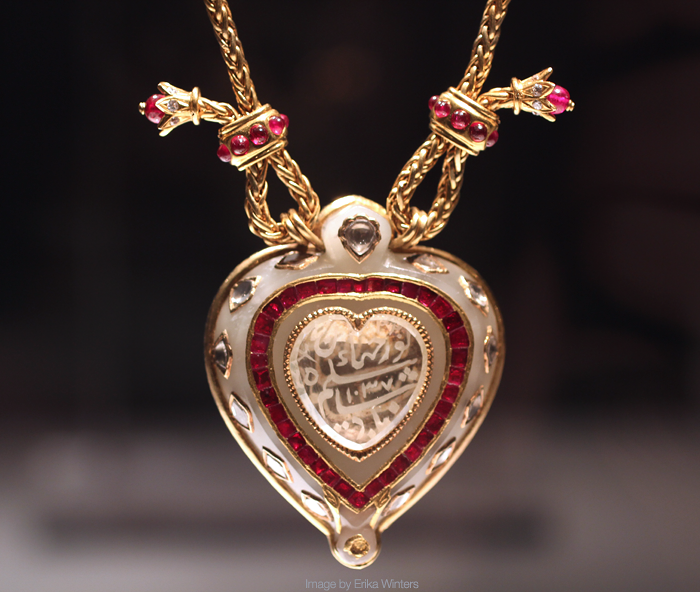 "I'm fortunate to have some very important pieces of jewelry. I don't believe I own any of the pieces. I believe that I am their custodian, here to enjoy them, to give them the best treatment in the world, to watch after their safety, and to love them." – Elizabeth Taylor from My Love Affair with Jewelry.
We can only imagine what international icon, philanthropist, and jewelry lover Elizabeth Taylor would say now, as her Taj Mahal Diamond necklace is at the center of a lawsuit filed by her trust.
In December 2011 Christie's auctioned Elizabeth Taylor's renowned jewelry collection, clothing, art, and memorabilia with proceeds earmarked for the Elizabeth Taylor AIDS Foundation. The third highest lot sold during the two-session jewelry auction was Taylor's Taj Mahal Diamond necklace, a fortieth birthday gift from Richard Burton that sold for over $8 million. Taylor's jewelry sale established a new record for the most valuable jewelry auction in history. The Taj Mahal Diamond necklace's sale also garnered a new world auction record for the highest price paid for an Indian jewel.
In Elizabeth Taylor's book My Love Affair with Jewelry, the late actress stated that the Taj Mahal Diamond necklace had been made in 1627 for Nur Jahan, wife of Mughal Emperor Shah Jahangir. (The necklace was later outfitted with a new chain by Cartier.)
According to a Los Angeles Times report on the lawsuit, the anonymous buyer of the Taj Mahal necklace demanded a cancellation of the sale, as the buyer claims the heart-shaped diamond jewel was not from the Mughal period.
Christie's subsequently canceled the sale and demanded the return of over $7 million from the beneficiaries of Elizabeth Taylor's trust. Last week Taylor's trust filed a lawsuit claiming that Christie's auction house violated its own policies. The trust claims that the necklace was sold as "Indian" without the Mughal provenance.
From the trust's 25-page complaint: "In the past, Christie's has consistently (and successfully), as a matter of policy, taken the legal position that if a buyer's claim falls outside the scope of Christie's warranty, there has been no violation of the conditions of the sale and no obligation by Christie's to rescind."
Taylor's trust alleges that Christie's violated the agreement to appease its buyer, a "VIP."
In a statement on the lawsuit, a Christie's representative said, "This suit stems from Christie's seeking the return of a small portion of proceeds due to the cancelled sale of a single item from the 1,800-lot collection. Christie's looks forward to a speedy resolution of this matter."
Christie's sale of Elizabeth Taylor's clothing, jewelry, and memorabilia garnered over $183.5 million.
Visit the Los Angeles Times to read the full lawsuit filed by Elizabeth Taylor's trustees.
Related:

Elizabeth Taylor's Jewelry, A Pricescope Love Affair – Part One


Elizabeth Taylor's Jewelry Auction Achieves a Record $115.9 Million