By PS Staff
We would like to highlight one of our favorite destinations for lovers and wedding proposals . . . Florence, Italy. The historic seat of the Medici family and the ground zero of the Renaissance means that you and your loved one will be overcome with love when you set foot in the capital of Italy's Tuscany region. In order to help you out, we've created a fabulous way to spend a day in the Tuscan capital culminating with a beautiful proposal.
A Stroll through the Boboli Gardens. The Medici's ruled Florence and as a result their presence is everywhere. Boboli Gardens was the family's personal hideaway; no one without the Medici name was allowed to set eyes upon the gardens. Fortunately, after taking in the impressive works at Palazzo Pitti, just pop into the attached gardens and marvel at the wonderful landscape and future before you.
     Know before you go:  Boboli Gardens.
Elegant Wine Tasting. Fabulous wine bars are everywhere, and our favorite way to start the night is popping in to one of these places before heading to the next stop. The Chianti region is in close proximity to Florence so you are able to sample the best Chianti in the world, but don't stop there. The city's white and red wines are fantastic and when paired with a selection of the many cheeses available, we can't think of a better way to kick off the night's festivities.
     We love:  Il Borro Tuscan Bistro & Obica Mozzarella Bar.
An Intimate Dinner. Florence is an old-world city which means that there are an endless number of cozy buildings enjoying their second lives as romantic restaurants. You may think that finding a restaurant where locals and travelers dine is difficult, but they have many romantic restaurants which are skilled in the art of the wedding proposal. A little planning goes a long way and if you tip off the maître d', he or she will become your accomplice in helping you craft the perfect proposal.
     For that perfect proposal:  Buca San Giovanni.
The Ring. What good is a proposal without a stunning ring? Surely you champion romance if you've sought out one of the most romantic cities in the world to profess your undying love. So why not slip one of these Tacori beauties on a finger to seal the deal?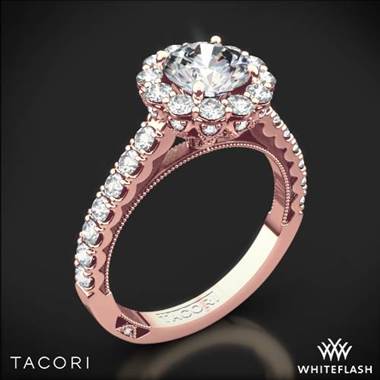 Tacori Rose Gold Full Bloom Round Halo Engagement Ring, $6,350

at Whiteflash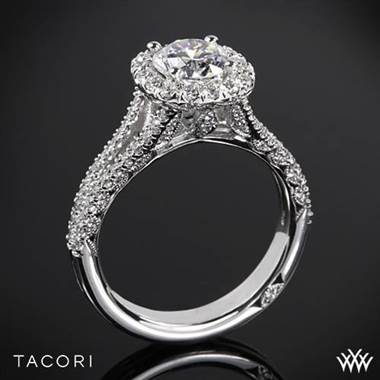 Tacori Petite Crescent Split Shank Halo Engagement Ring, $7,090

at Whiteflash
Tacori Dantela Crown Engagement Ring, $2,920

at Whiteflash
Florence is for lovers and hopeless romantics. Hands down, it is one of the best destinations we have ever experienced. The city is wonderful for romantic wedding proposals and we have heard of several couples getting engaged in the city. Because no one's experience is the same, we want to hear from you. Did you have a wedding proposal in Florence? What are your favorite hideaways in the city? Let us know in the forum. We'd love to learn more about you and this romantic city.
Click here to search for more (Resources >> Jewelry Search).