By PS Staff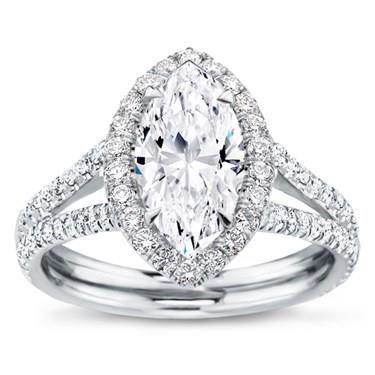 Split Shank Halo Setting, $2,290

at Adiamor
Billionaire Rupert Murdoch recently became engaged to Jerry Hall and he proposed with a massive marquise cut engagement ring. Undoubtedly, that ring propelled the cut back into the spotlight and increased our views here at PriceScope. Yet even though it isn't one of the most popular fancy cuts on the market, we think our readers here should take another look at the magnificent marquise. We promise you won't be disappointed.
Why We Love Marquise Cut Diamonds
They're Versatile. You can wear the cut in a north/south formation or create a completely different look by opting to have it set in an east/west formation. All it takes is one quick change and the look can go from traditional to thoroughly modern.
Has Royal Connections. The court of Louis XIV was not known for its modesty. So it should come as no surprise that King Louis XIV commissioned this cut to resemble the Marquise of Pompadour's mouth. Thus, history was born and King Louis XIV sent hordes of his well-bred subjects clamoring for their very own marquis cut diamonds.
More Bang for Your Carats. Marquis cut diamonds have more surface area which allows it to appear larger than it is. This is a great shape for those with tight budgets who still want to have a ring that looks like it cost much more than it really does.
All by Myself. Round brilliant diamonds may be standard-issued diamonds for solitaire settings, but did you know that marquise cuts look just as well by itself? In our minds, the cut supersedes the round diamond for women who love the look of a solitaire. It's eye catching and can more than hold its own in a setting.
Have you fallen in love with the magnificent marquise yet? Of course you have, but we aren't finished. Read our tutorial on "Marquise Cut Diamonds" to learn more about this fascinating cut.
Do you have a marquise cut diamond? Well drop us a pic with comments and show that beauty off in the "Forum >> Show Me The Bling! >> Show your Marquise Love!" thread that "Amys Bling" started!