Bling Scene: Paris Hilton is Engaged (Again)!
One celebrity has been felled by engagement season, Paris Hilton. Ms. Hilton's boyfriend of a little over a year, Chris Zylka, proposed to her recently while they were on a trip to Aspen, Colorado.
Now, she is no stranger to stunning jewelry, but her engagement ring made our jaws drop. It is a 20, yes TWENTY carat, pear-shaped diamond ring set on a platinum, split shank band said to reportedly cost more than $1 million dollars.
However, experts say that the ring could cost significantly more than the estimated price tag.
Why, well I'm sure you already know why. Firstly, the solitaire alone is worth twenty carats. The band has an additional two carats. Secondly, if all of the diamonds are in the upper echelon of diamond quality, then the price could enter stratospheric figures. We're talking about at least $4 million dollars.
It's easy to think that her engagement ring may just seem like a cold, expensive rock for someone accustomed to her lavish lifestyle, but that is the farthest thing from the truth. Paris fell in love with the fancy cut diamond because her mother has a pear-shaped engagement ring. Therefore, she selected a ring which she loves and is has sentimental value.
Once again, Paris sets the trends. Pear shaped fancy diamonds are one of the biggest projected trends of 2018, so it's no surprise that she is the first celebrity engagement of the year sporting this look.
Steal Her Style
You don't have to have deep pockets to steal this look (although it would help). Just visit our site to find the ring of your dreams, or just grab one of the rings below.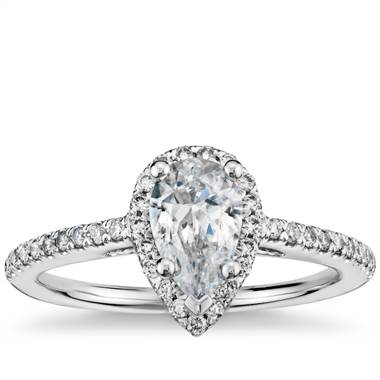 One carat, pear shaped diamond halo engagement ring set in 14K rose gold

at B2C Jewels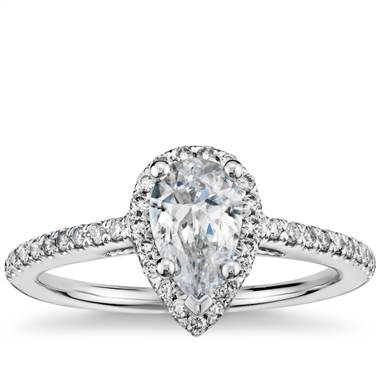 Pear shaped halo diamond engagement ring set in 14K white gold

at Blue Nile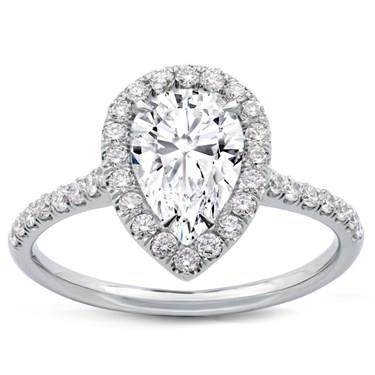 Pear shaped diamond halo setting

at Adiamor
Source: Yahoo Finance

By PS Staff