Simple and Sparkly posted this stunning ring on the Show Me the Bling forum at PriceScope. This ring packs a ton of WOW power! Upgrading your engagement ring is such a fun way to reaffirm your commitment to one another!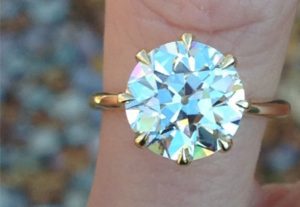 The decision to make this upgrade came after a very scary medical issue, and it is a celebration of still getting to be together, that is a reason for fab bling if I have ever heard one! This diamond from OWD kicks out light like crazy, I just can't stop looking at it! Adam at OWD and Simple and Sparkly's DH even added tiny diamonds inside the shank of the ring to signify the couple's children.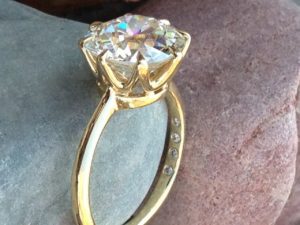 I hope that you get to wear this is health, wealth, and happiness for many years to come! This is incredible!
The Stats:
4.03ct
Color: K
Clarity: VS1
10.12×10.15×6.35
table- 46%
depth- 63%
faint flour
Go see the post with more pics!
The Jewel of the Week is our chance to feature and appreciate a recently posted piece from the Show Me the Bling Community!
Thank you so much for sharing your jewelry experiences with us. We look forward to seeing more!
#JOTW
Come show off YOUR fantastic bling with fellow jewelry lovers and trade professionals
Engagement Rings – Learn before you shop | A Pricescope Tutorial