By PS Staff
The Oscars will be rolling through this Sunday night and as we promised before, we will be front and center to see all of the rocks on display. If you've been following our little Oscar series, you will notice that we covered all the major types of jewelry you can wear except for necklaces. That's because we love necklaces and definitely believe they will be front and center during the Oscars. Thus, we decided to save the best for last and know that the following necklaces belong on an Oscar red carpet OR in your jewelry box.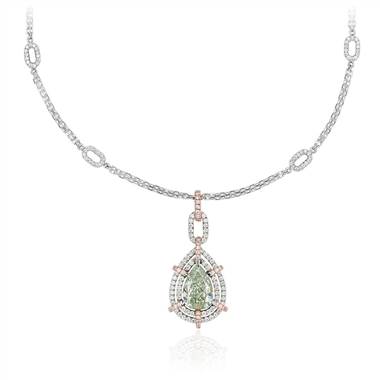 Pear Shaped Double Halo Pendant, $42,000

at Blue Nile
We are mesmerized by this necklace and know beyond a shadow of a doubt that stylists would be fighting tooth and nail to drape this beauty around some A-lister's neck. A necklace of this substance deserves to be front and center. It's unique, it's beautiful and it's made for you to wear it with a deep neckline.
     Celebrity We Want to Debut this Stunner:  Angelina Jolie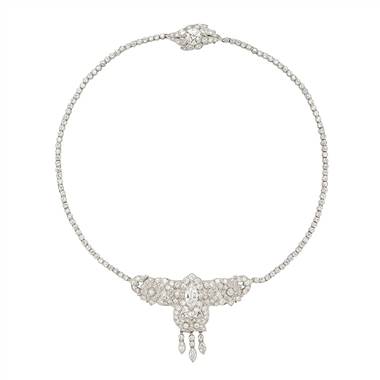 Estate Art Deco Diamond Choker, $46,500

at Blue Nile
Gosh, if anyone wants to take advantage of the choker trend, now is their chance. The popularity of art deco has not waned since The Great Gatsby. What is interesting is how chokers have seemingly been propelled into the limelight in just a few short months. We know we will see a few chokers on the red carpet and think that if you're going to add at least one trendy piece to your jewelry wardrobe, it should be this.
     Celebrity We Want to Debut this Stunner:  Rooney Mara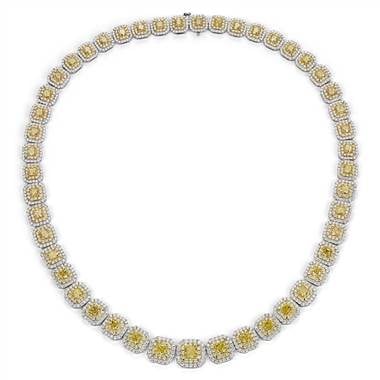 Fancy Yellow Diamond Double Halo Eternity Necklace, $90,000

at Blue Nile
Yellow diamonds are a hit this year. Now put canary yellow diamonds in another fan favorite, a halo setting, and watch the world fall at your knees. What we really love about this piece is how it exudes elegance without looking stuffy or trying too hard, a perfect alternative to the traditional pearls for the "ladies who lunch" crowd.
     Celebrity We Want to Debut this Stunner:  Catherine Zeta-Jones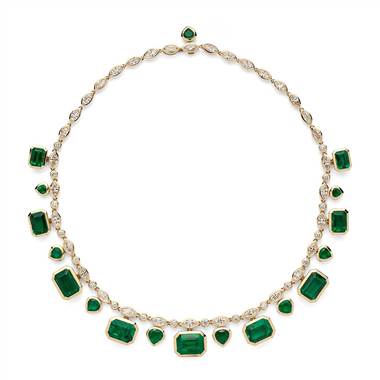 Estate Emerald and Diamond Statement Necklace, $93,000

at Blue Nile
Nothing says elegance and to-the-manor-born than an emerald necklace passed down from generations (or purchased at an estate sale, we promise not to tell). Yet, the refined nature of this piece means its wearer must have regal bearing. But don't worry if this doesn't sound like you. Once you clasp this beauty around your neck, you'll instantly walk taller and command a room with a look.
     Celebrity We Want to Debut this Stunner:  Phylicia Rashad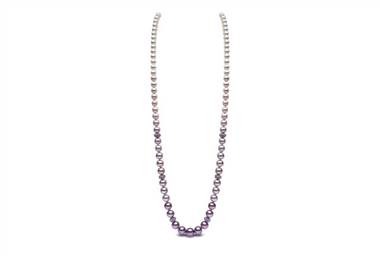 Yoko London Graduating Pearl Necklace, $23,800

at Ritani
Good pearls gone "bad" is how we look at this piece. Pearls are no longer for well-heeled grandmothers. Now, you can find women of all ages wearing pearls because jewelry designers have been modernizing the look. The result, pearls that are anything but unstuffy. What a transformation!
     Celebrity We Want to Debut this Stunner:  Lady Gaga
So the grand dame of the awards season is upon us which is why we saved the big guns for last. These pieces can definitely hold their own and we can't believe that you can find these beauties right here at PriceScope. So PriceScopers, what say you? Will you be right here with us on Sunday or surfing our site to find another beauty to add to your jewelry box?
Click here to search for more (Resources >> Jewelry Search).