Susimoo originally posted this amazing OMC custom ring on the Show Me the Bling forum at PriceScope.  Wow the colors this gorgeous antique produces are phenomenal. I love to think about the history of antique stones, where they have been, who has owned them. I wonder who has gotten to enjoy this pastel wonderland.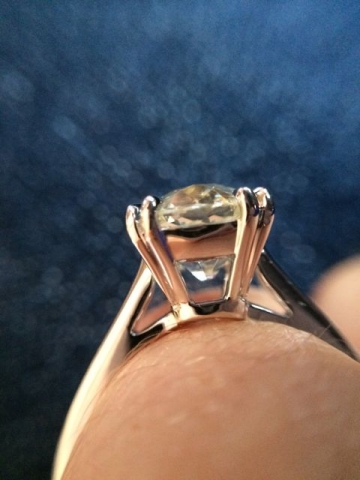 You can recognize an old mine cut diamond by its squarish shape: it has 58 facets like today's modern round brilliant cut diamond, but that's where the similarity ends. In addition to a different shape, an old mine cut has different diamond proportions: it typically has a smaller table, larger culet and higher crown. It also has short lower half facets and a girdle that is very thin in places and, as a result of these factors, an old mine cut diamond has a very distinctive look. (from GIA)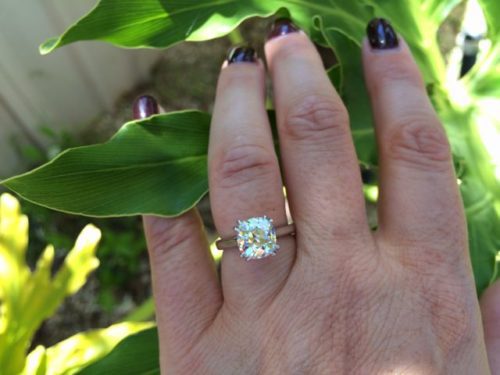 There was some deep sadness in Susimoo's life during the purchase process for this ring, and I hope that this beauty restored some joy for her. Losing a sibling is incredibly hard, and we are wishing Susimoo belated condolences.
Old World Diamonds did a great job with sourcing this stone, it's an antique and thus has some character; it's still stunning!
The Stats:
2.18 ct
Color: J
Clarity: SI1
7.97 x 7.54 x 5.36mm
The setting is 18 carat white gold
size 4.5.
Visit the original post with more pics, and join me in congratulating Susimoo
On Throwback Thursdays, we celebrate beautiful pieces that have been shared over the years!
Thank you so much for sharing your jewelry experiences with us. Keep revisiting PriceScope's past with us each Thursday!
#TBT
Come show off YOUR fantastic bling with fellow jewelry lovers and trade professionals
Learn more about Antique and Vintage Jewelry from PriceScope