AGBF originally posted this fabulous red spinel and diamond pear ring on the Show Me the Bling forum at PriceScope.  Pow, that color pops right out at you! The beautiful pear cut side stones from Good Old Gold make that red stand out! This is gorgeous, PriceScopers have the best taste!!!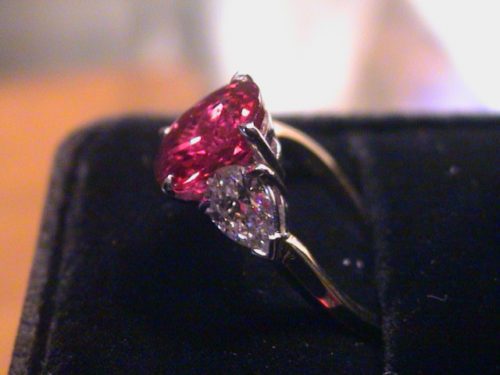 GIA tells us that Spinel, like garnet and diamond, is singly refractive, with the same physical properties in all crystal directions. It belongs to the cubic crystal system, and its characteristic crystal shape is an octahedron, which looks like two back-to-back pyramids. Well-formed spinel crystals are fairly common in nature.
The color was the primary importance for AGBF, and I am so glad she stuck to her guns about it. What makes jewelry so magical is it's importance  and significance to the individual (the fact that it is also beautiful is fabulous icing on a spectacular cake)!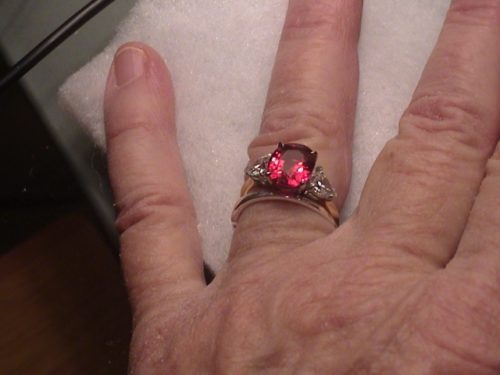 Love it, congratulations on your ring creation success story! I hope it's continued to bring joy in the intervening years!
The Stats:
Spinel Center Stone:
3.16 carats.
10.24mm x 8.25mm x 4.91mm.
It originated in Myanmar (Burma).
untreated
Color description: red
Shape: cushion
Cutting style: mixed cut
Cutting grade: very good to good (4-5)
Finish grade: very good to good (4-5)
Color grade: 2.5/80
Clarity grade: LI1 (lightly included)
Total quality: excellent to very good
The side stones are a .51 and a .53 carat D colored VVS2 pear shaped diamonds
Visit the original post with more pics, and join me in congratulating AGBF
On Throwback Thursdays, we celebrate beautiful pieces that have been shared over the years!
Thank you so much for sharing your jewelry experiences with us. Keep revisiting PriceScope's past with us each Thursday!
#TBT
Come show off YOUR fantastic bling with fellow jewelry lovers and trade professionals
Learn more about Colored Gems from PriceScope