Blingymo originally posted her amazing OEC engagement ring upgrade on the Show Me the Bling forum at PriceScope.  We all know I love a unique look, but the classics are classics for a reason. This stunning solitaire is like a flashlight, so much light coming from it!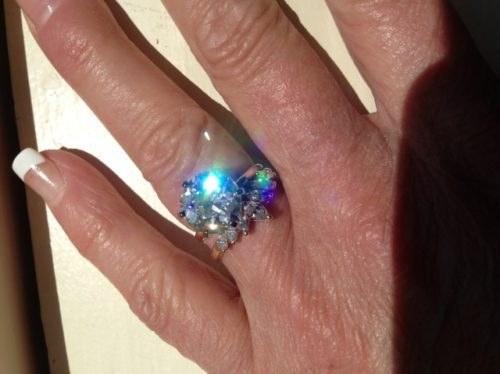 Blingymo may have dropped a hint or 50 that she was looking to upgrade her engagement ring and her husband decided to go for it. By happenstance the new diamond was purchased on the 28th anniversary of their original engagement, how cute is that? Her husband said that she used to wear his Corvette, but now she is wearing his garage! I cannot believe the light play on this OEC, it's a disco ball and I am here for it!
Stats:
4.3 OEC
Blingymo says:" It is SI2 (eye clean to me, but not in close up photos), was sold as an I/J, but has been appraised as an M, which was a little disappointing. However, to my eye, it is plenty white and since I love it, it is just a letter on a piece of paper. It has medium fluor, and I have ordered a UV light so I can enjoy it – I love fluor!"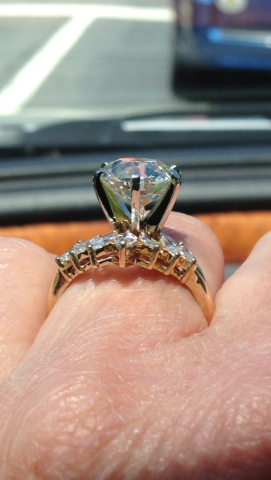 Visit the original post with more pics and join me in congratulating Blingymo!
On Throwback Thursdays, we celebrate beautiful pieces that have been shared over the years!
Thank you so much for sharing your jewelry experiences with us. Keep revisiting PriceScope's past with us each Thursday!
#TBT
Come show off YOUR fantastic bling with fellow jewelry lovers and trade professionals
Learn more about choosing between custom design and designer brand from PriceScope