Designer Brand vs Custom Design
This article discusses some of the issues and considerations involved in deciding what approach to take for those who don't want something "off the shelf".
Quick Summary:
Survey several of the top designer brands to get an overview of look and feel and to see the range of variations possible.
Go deeper into the general style you are interested, such as halo designs, and see the different treatments that the different designers feature.
Determine the basic design elements that you would incorporate into your project.
If you find a designer style that is close to what you have in mind, inquire with the designer (through an authorized distributor) if the design can be customized or custom made. If so, get a quote.
Get a quote from a custom jeweler using what you have learned in your research to communicate the design elements you would like in your piece. Use images of the designs you have come across for specificity. * note: an ethical jeweler will never copy a designer style, but can incorporate certain design elements while creating something different and without violating copyrights.
Understand the process and timeline of the custom jeweler, and the policies and benefits offered. Clarify the quality of materials that will be used, and see samples of his workmanship.
Check reviews and reputation of the jeweler or designer brand including Better Business Bureau report.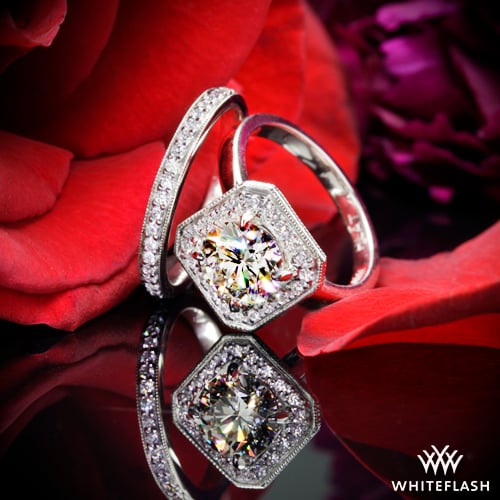 Custom Design
When a jewelry shopper is interested in something unique – something really different from the mainstream – custom design is usually the first thing that comes to mind. Build it from scratch and build it just the way you want it. That is a great option for many, and sometimes the only option if the design is very unusual.
However, there are other options to explore, and since there is always an element of uncertainty involved in building something from scratch in terms of exactly how the finished piece will look, exploring the other options early in the process is a very smart strategy and time well spent.
First Get an Overview
With regard to engagement ring designs there are dozens of brands with hundreds, even thousands of designs in each of their catalogues. Each designer tends to have a signature style using unique design elements to create their own look and feel. Spending a little time getting an overview of multiple jewelry designers will help you get a sense of the range of options and design elements available, and to determine those that you like and don't like.
Focus on a Specific Style
With that perspective, you can now go deeper into the catalogues for the specific type of ring you have in mind. For example, if it is a halo style that you are interested in, look at each designers halo collections. See how each approach the different variations on the general theme. This will give you a more detailed view of where you can go with a halo, and what aspects are most appealing to you.
This sort of research will benefit you in many ways. If it leads you back to custom, you will have a very good idea of the design elements that you want incorporated in your piece, and it will provide you examples with which to communicate very specifically with the jeweler building your custom ring.
The Designer Brand Approach
In the process you may discover that your dream ring is already out there! If this is the case, the path to putting together your special project becomes much easier and more predictable. You will have the opportunity to see the actual finished piece either in high quality images or in person in the store, or both. You will also have all the benefits the designer brand offers which can add significant value to the purchase.
Another very important thing to remember when looking at designer brands is that they often offer customization or even pure custom design themselves. If you like a piece very much but would like to see it tweaked in a certain way, that is quite often possible. If you love the look and feel of a designer but want something unusual done in the style, they may be able to accommodate you with a full custom ring. Many of the designers keep CAD files for every custom or customized piece they have done for this purpose. For instance they may have easily available, but not in their catalogue, versions of their designs with different size center or side stones, different shapes, and other variations that other customers have ordered in the past. You may be closer than you think to the specific combination of elements that you want by inquiring with the designer. And if the designer builds it, it will be done according to their specific standards of quality control, ensuring you that the piece will be both durable and wearable. And it will come with the brand name and all benefits associated with the brand.
You will be paying a premium for either a designer item or a custom project with a custom jeweler. If you are able to get what you are looking for with a designer, the benefits can be well worth it. The comfort of having a very specific idea of how the piece will look along with a clear understanding of the quality of the workmanship and materials can give you the confidence that is sometimes lacking in going with a custom build with a custom jeweler.
The Custom Jeweler Approach
There are some very fine jewelers who do terrific work and will also work closely with you to understand exactly what you envision and guide you through the project. And they are capable of executing your plan in a high quality manner. It is often very gratifying to work in close step-by-step collaboration with a custom jeweler. It can add enjoyment to the journey and add another layer to the sense of specialness of the finished project.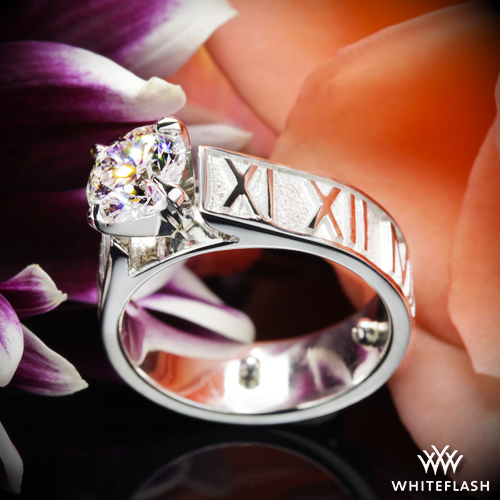 Custom Design
It is important to research any custom jeweler or designer brand you are considering using and to see their work and their customer reviews. It is often easier to gain that type of understanding from a national brand with a history and a significant track record.
While there is something to be said for making a special piece "all your own", of the tens of thousands of designer styles that are in the collective designer catalogues, chances are something very similar to what you have in mind has been done before. It may require putting certain design elements together in new ways, but going the designer brand route can sometimes accomplish the goals more directly and with less uncertainty about the outcome.
After doing your research, whichever direction you decides to go, it will be a fun and exciting experience. And you will have a special, very personal treasure to show for your efforts.
by Bryan Boyne, G.G.
Vice President
Whiteflash Inc.