By
Erika Winters
Tourmaline is one of October's birthstones, along with opal. While this gemstone is found in a wide array of hues and varieties, there is one type that encapsulates a whole ocean of color in gem form–"Paraiba" tourmaline. These gems are known for their neon greenish-blue (sometimes dubbed "Windex-blue") that captivated collectors when they were first discovered in Brazil's state of Paraiba in the late 1980s. The coveted color is also found in Mozambique, where they are called "cuprian" or copper-bearing tourmalines. No matter what the origin, these spectacular gems are rarely tumbled to keep their raw, organic shapes. So when we spied Hubert Gems' necklace at JCK this year, we had to take a closer look.
Crafted with 290 carats of tumbled and hand-polished tourmalines from Mozambique, Hubert Gems' necklace makes a grand statement in organic style. The two larger gems are suspended from a chain of cuprian tourmaline beads that graduate from greenish-blue to green. And the bottom drop, which can be detached to be worn as a pendant, is held by a cage of 18k white gold and diamonds.
Visit Hubert Gems to see more unique creations featuring stunning and rare colored gemstones.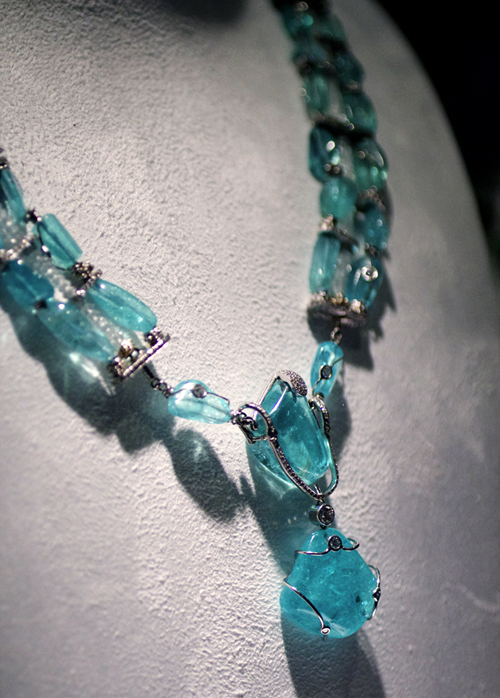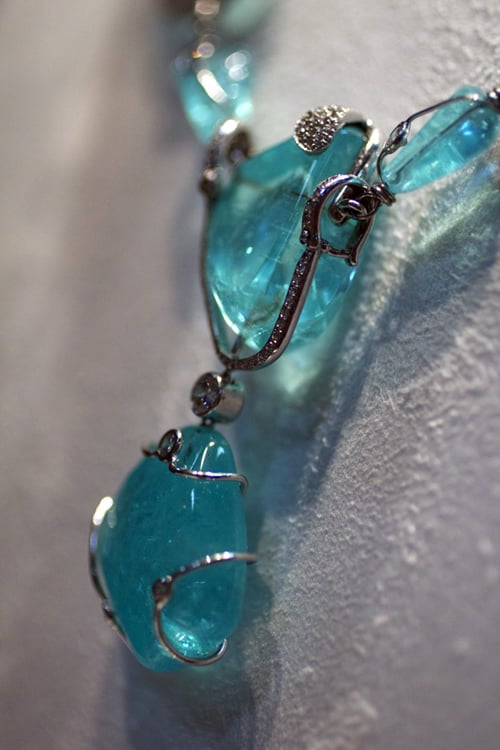 Hubert Gems' necklace features 290 carats of tumbled and hand-polished cuprian tourmalines and 4.50 carats of diamonds in 18k white and yellow gold.
Related blog and forum topics:
Mimi So's ZoZo Boulder Opal Necklace for October
Finished project, Paraiba/Tourmaline and Opal stackers…