Cabachon Emerald and Diamond Teardrop Earrings in 18k White Gold at Blue Nile

Trends come and go, but classics last forever. But, what makes a classic? Do they just rise out of the mist and captivate everyone to just stay permanently? Of course not. Remember cold shoulder shirts? They were everywhere last year, but just as fast as they arrived on the scene they disappeared. The key to becoming a new classic is longevity. The look has to steadily be a trend for so long – we would wager at least three years minimum, but closer to five – that it becomes a staple piece in anyone's wardrobe. There are quite a few pieces which have deserved the right to be considered new classics; which is why we are dedicating another blog post to them this month.
Below, you'll find multiple pieces which were all trends at one point, and some still are, but have now shifted into new classic territory. If you don't own one of these pieces now is the time to buy as you won't regret the decision.
Halo Setting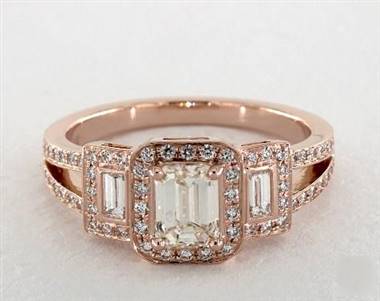 You know this was going to be number one on the list. Halo engagement rings have nearly become de rigueur in the wedding jewelry world. Round solitaire diamonds have long been the classic engagement ring staple, but now they have to move over to share some of the spotlight with halo settings. But halo settings aren't just seeing a sustained interest in the bridal industry. Halo settings have made it big with earrings, pendants and right-hand rings all using the halo setting. Now, we'd wager to say it would be harder to find an engagement ring without a halo setting than one with. Safe to say that this setting is going to be in for the long run.
Statement Earrings
It's strange, I actually remember when statement earrings exploded on the scene in a big way within the last 20 years. Now, of course they were anything new in jewelry history, but this time it was different. Statement earrings were everywhere and not just for white tie events. I remember wearing jeans and a tee with statement earrings and I wasn't the only one. Today, I usually wear them when I'm having a bad hair day in order to "distract" everything that is going on. But they're also my go to for gala events as well. Statement earrings are versatile and adapt to many situations which is why they're definitely a new classic and aren't going anywhere.
Rose Gold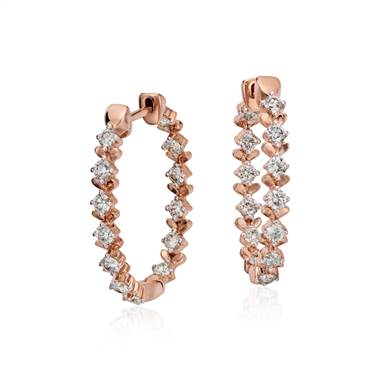 We're all old enough to remember when rose gold was a novelty metal. People thought it was amazing, it was beautiful and that it would not be around very long once people became bored with it. Well, as we all know, rose gold is definitely more than a fan favorite and we don't know anyone who doesn't own at least a few rose gold pieces. This shouldn't be a surprise considering this metal is nearly universally flattering on any skin tone and it works well when paired with other metals. A truly versatile queen worthy of her crown!
These are all amazing pieces and we are thrilled that they have such longevity and popularity with society. We are looking forward to enjoying 10+ years with these pieces by our side. Take a look at The New Jewelry Classics part one! What is your favorite, let us know on the forum at PriceScope.