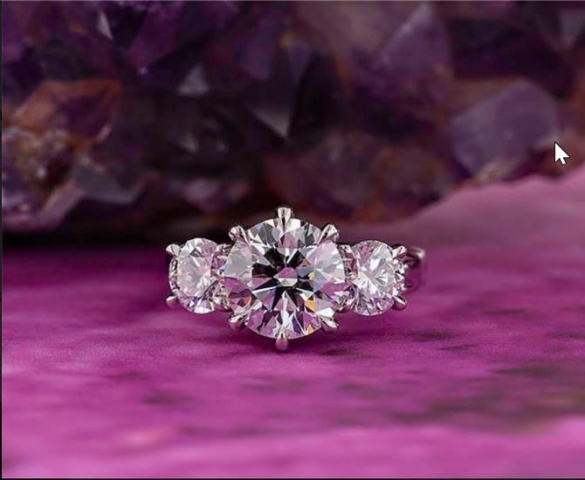 Meet Trilogie, a truly stunning 3 stone for Cflutist
Cflutist shared this gorgeous 3 stone ring with us on the Show Me The Bling Community at PriceScope.com One of things that I love about getting to work with PS is that we all share a love for the users and their incredible jewelry collections! I got an email from Andrey (who you all know and love) asking if I had seen these fantastic pictures yet, I clicked over and my jaw hit the floor, I expect yours will too!
Elsa has nothing on this ice
Cflutist has some seriously glorious pieces, and this one is no exception! She gets custom jewelry created and it ALWAYS is breathtaking. Entrusting Wink at High Performance Diamonds to meet her fabulous and exacting tastes since 2004, if her collection is the bar it is set incredibly high! You really have to go look for yourself at this outrageously sparkly ring!
The Stats:
2.21 CBI center diamond that was cut to order in 2014
Color F
Clarity SI 1
The side stones are .53s F-VS1 and F-VS2 CBI diamonds that are within .01mm of each other and have the same crown and pavilion angles.
Trilogie is at home
Want to see the entire post with more pics? Lots of pics in here!
The Jewel of the Week is our chance to feature and appreciate a recently posted piece from the Show Me the Bling Community!
Thank you so much for sharing your jewelry experiences with us. We look forward to seeing more!
#JOTW
Love this look? Learn more about three stone rings.
Come show off YOUR fantastic bling with fellow jewelry lovers and trade professionals in the Show Me The Bling Community at PriceScope.