By PS Staff
While the East Coast was battling icy weather conditions thanks to Jonas, Mariah Carey made news with some ice of her own. The megastar reportedly told Nick Cannon that if he ever did anything to jeopardize the marriage, she would go out and get a billionaire. She did just that and it paid off. Her boyfriend, billionaire James Packer, proposed to her with one of the biggest jaw-dropping engagement ring in recent history. After we saw it, we knew we just had to find out everything there was to know and pass the details on to you so you can have her look for less.
Carey-Packer Engagement Ring: Facts and Figures
At 35 carats, Mariah Carey's engagement ring is larger than Beyoncé and Kim Kardashian's engagement rings combined. However, the most interesting detail is that it is larger than the engagement ring Richard Burton gave to Elizabeth Taylor (33 carats). Another interesting tidbit, the Hope Diamond is only 10 carats larger than Ms. Carey's ring.
As you can imagine, 35 carats can be quite pricey and this ring was not in the bargain bin. Her fiancé parted with a little more than $11 million to slide the beauty on his beauty's finger. Why was it so expensive? As all of you PriceScopers know, platinum set, internally flawless, D color, emerald cut diamonds do not come without hurting someone's pockets.
A diamond with that pedigree and substance must be treated with care which is why Packer went to Carey's longtime friend and jeweler, Wilfredo Rosado, to craft the perfect ring. He wanted to balance the stone's size with stability without the appearance of weight. Mr. Rosado and his team pulled 12-hour shifts for two weeks just to bring the engagement ring to life. Now, he will forever be intertwined with the instantly iconic ring he created.
Mariah Carey is known as a woman who gets whatever she wants. Thus, it was only natural that she would have a ring befitting her legendary status. Mr. Packer knew he was going to have to bring the bling to seal the deal and make Ms. Carey his wife. Now the world knows that the resulting 35 carat Wilfredo Rosado engagement ring hit all the right notes. Fortunately, you can have her look for less with an amazing ring by one of our Featured Sponsors.
Get the Look for Less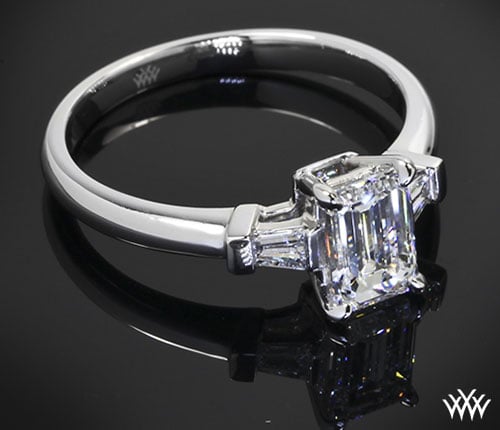 Custom 3 Stone Emerald Cut Diamond Engagement Ring

at Whiteflash
This beautiful custom 3 stone engagement ring is set in platinum and features a 1.25 ct Emerald cut diamond that is flanked by two tapered baguettes (0.10ctw).