By Erika W.


Bronx Zoo Cobra – May we adorn you? The Egyptian cobra that went missing from its enclosure last Friday was found today. The wily cobra had started a twitter page and had been tweeting about town in NYC, but we are glad to hear the famous reptile is safe and sound. We admire the pluck of this adventurous cobra, and what better way to pay homage than to send a bejeweled hello!
This Zannetti pendant features a diamond and emerald pave snake curved around a 134.86 carat emerald. JCK online reports the jewel is valued at $1 million. The piece is one of the highlights of this year's Baselworld.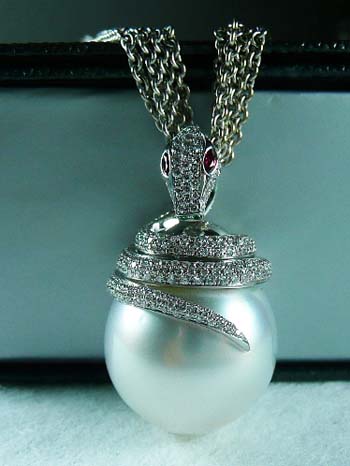 Posted by megeve
My huge southsea pearl
Megeve's enormous South Sea pearl pendant features a coiled diamond serpent with ruby eyes. The 19.70 mm pearl was a fabulous Baselworld find!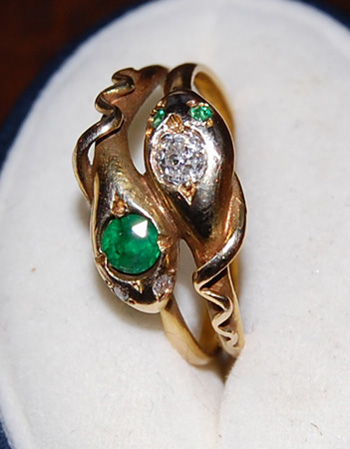 Posted by Kismet
My new (old) snake ring
Kismet's Victorian era snake ring features emeralds and diamonds. Serpent motifs in 19th century jewelry were popularized by Queen Victoria. The snake eating its tail was frequently used as a powerful symbol of eternity.
This 18k viper ring features cabochon ruby eyes.
Kim Kardashian wore a serpent bracelet by Lorraine Schwartz at the 2011 Grammy Awards.
The late Elizabeth Taylor's Bulgari serpent bangle, which features a Jaeger-LeCoultre watch inside the mouth.
This Tiffany & Co. Elsa Peretti Snake necklace is made in sterling silver and in 18k gold.
Temple St. Clair's 18k gold serpent necklace features diamond eyes.
Related Topics:
Any Snake Owners – advice needed…
Share your serpent jewelry: Show Me the Bling!