Life is strange. We are attempting to navigate a new normal. Some of us are slowly coming out of hibernation with new sanitizing and social distancing rules in play. I'm one of those people. After battling severe, lockdown-induced eczema (thanks, anxiety!) I've slowly started venturing out, mask in hand to try and rejoin this new world. Finally, I decided to take the plunge by attending a charity polo match. Yes, I spent a day at the races. It was the best way for me to come out because 1) I'm a life-long equestrian, 2) food, and 3) I can spend the entire match socially distancing sitting in the car while observing the action on the field. It's a win–win situation for me. Then a new situation presented itself: what will I wear with my mask? I'm cycling through a few options, but I've narrowed it down to three contenders to make an impression on matchday with the horses.
DIAMOND STUDS
Studs are a classic piece and they will always be in place for any well-heeled event. I'm partial to fancy cut diamond studs. I have been drooling over a pair of Asscher cut diamond studs, but any cut will look just at home on the polo pitch or on the sidewalk. Horses and diamonds go a long way – just walk the grounds at any dressage show – so a pair of diamond studs at any equestrian event would make me feel like I was getting ready to hop on the saddle.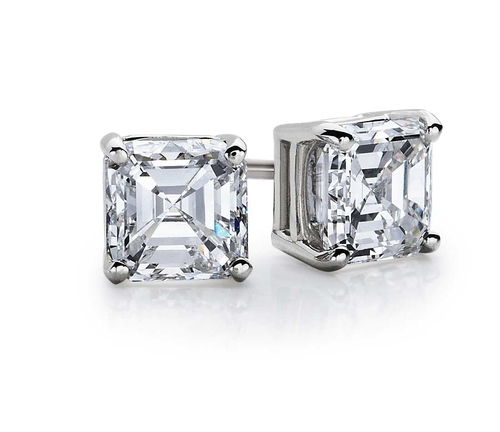 Bring a touch of bling to the match with Asscher Diamond Stud Earrings set in 14K White Gold at Blue Nile. 
DROP OR CHANDELIER EARRINGS
We have a lot going on above our necks today. Half of our faces are covered whenever we step out of the house, so one of the only ways we can show a bit of personality above the neck is to focus on our ears. As an eternal lover of chandelier earrings, I'm not exactly bemoaning the arrival of masks. It provides me with the perfect reason to just strap on some obnoxiously big earrings for any occasion.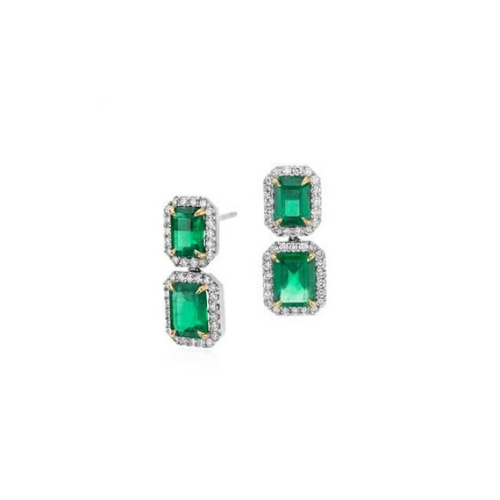 Morning Zoom meeting wearing sweats? Check. Turning supermarket aisles into runway moments? Check. Right now it's ALL about the chandelier earring so I'm ready to go back to my roots and wear some big ones. I do know one thing, they'll be able to see me all the way in the car with these Emerald-Cut Emerald Diamond Pavé Drop Earrings set in 18K White Gold at Blue Nile.
STATEMENT RING
I've also been drawn to statement rings. I don't know if I've reached that stage in my life where I'm piling jewelry on like crazy or COVID has pushed me to add more on to show my personality. Whatever it is, I want to put some serious bling on my fingers for this charity shindig. The bigger the better is the name of the game and I'm seriously considering a large cocktail ring to go with my match day attire.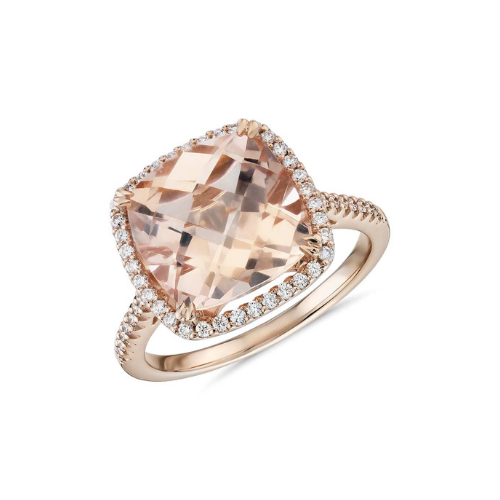 This Cushion Cut Morganite Diamond Halo Cocktail Ring set in 14K Rose Gold at Blue Nile will definitely help me make a statement on match day.
This will be the first event I'm venturing out to since lockdown was eased and I plan to enjoy every socially distanced goal. Thankfully I'm in the camp where I believe you can look just as amazing wearing a mask as without. It's all about the accessories and you better believe that I'm going to have fun working my game day look while remaining safe at the same time.
Written By PS Staff