White gold is one of the most popular choices of metals when it comes to engagement rings, the other being platinum. White gold is popular because it is considerably cheaper than platinum. The purpose of this writeup is to give you a better understanding of what white gold is before purchasing an engagement ring or white gold jewelry.
WHAT METALS IS WHITE GOLD ALLOYED WITH?
Pure gold is too soft so we alloy it with other metals. That is the process of melting it down and mixing it with other metals to make it stronger. These other metals can affect the color of the gold as well as the price. White gold is made of fine gold alloyed with palladium and there are also traces of nickel. Nowadays, most non-US jewelers alloying fine gold with palladium and a little silver and a tiny bit of zinc as many people are allergic to nickel. Whereas the majority of North American jewelers still alloy fine gold with nickel as it is a cheaper metal compared to palladium. We urge you to inquire about the metals used to make the white gold before making a purchase as you could, unknowingly, be allergic to nickel.
IS WHITE GOLD NATURALLY WHITE?
White gold in its natural state is not actually white in color. White gold engagement rings are typically rhodium plated. When gold comes out of the ground it is naturally yellow. Rhodium is a shiny tarnish-proof metal that is used to coast through the electrolysis process when plating the engagement ring. Rhodium plating is not permanent, so re-plating is necessary. Some ring wearers may be able to go years without re-plating, while others may need to re-plate every 6-12 months. How often you need to re-plate will depend on your own body chemistry and how the piece is worn.
HOW MANY KARATS OF WHITE GOLD SHOULD I BUY? 
18K white gold is commonly sold on the market as opposed to 14K white gold. 18K white gold consists of 75% gold and 25% palladium. The fluctuating price of palladium could have a significant impact on the price of white gold during the time of purchase.
WHAT IS THE PRICE DIFFERENCE BETWEEN WHITE GOLD AND PLATINUM?
White gold and platinum are two of the most widely sold 'white looking' metals on the market for Engagement Rings. However, platinum is a naturally white metal compared to white gold. Platinum is a far more durable white metal and is denser compared to white gold. Platinum is that color all the way through so no matter how much you wear it you will never see yellowing. Therefore, there is no need for rhodium plating however some jewelers prefer to plate their platinum engagement rings to accentuate the color. Over time, a platinum ring will take on a grayish patina that can be polished away by a jeweler. The patina is the result of minute scratches over the surface of the metal. Some prefer the platinum patina, while others prefer to have their rings polished from time to time to remove it. Platinum has always been perceived as more expensive than gold because platinum is rarer and also has industrial uses but today it is actually the reverse because gold is seen as a safe investment in times of global political turmoil. Take a closer look at the price of an ounce of platinum ($864.48) vs. gold ($1,913.00). However, the price of platinum engagement rings is higher compared to white gold engagement rings because 95% of pure platinum is used in platinum jewelry as opposed to white gold jewelry which only comprises of 75% or 58.5%. 
WHAT IS THE WEIGHT DIFFERENCE BETWEEN WHITE GOLD AND PLATINUM?
Although rhodium plated white gold and rhodium plated platinum are virtually indistinguishable fragments. There is a significant difference in the weight of the jewelry piece. Due to the density of platinum vs. white gold. A platinum engagement ring of the same shape and size will weigh approximately one and a half times more than of the white gold engagement ring and there will be a significant difference in the feel of the ring. These factors will also influence the cost of the overall engagement ring because more platinum is used in the ring. Platinum is harder to polish and work compared to white gold.  This adds to the overall cost of a platinum ring. 
BROWSE WHITE GOLD JEWELRY
PriceScope's Jewelry Search boasts a wide range of jewelry from the likes of Whiteflash, Blue Nile, James Allen, and More.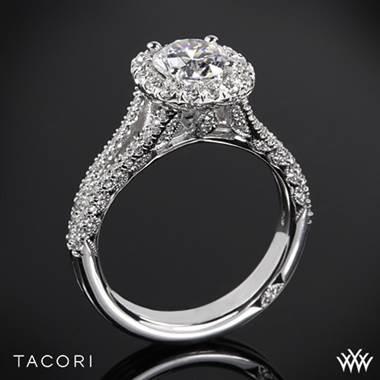 18k White Gold Tacori Petite Crescent Split Shank Halo Diamond Engagement Ring at Whiteflash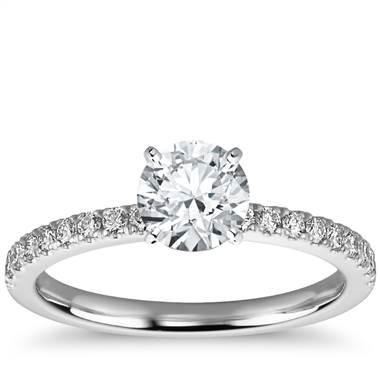 18k White Gold Petite Pavé Diamond Engagement Ring at Blue Nile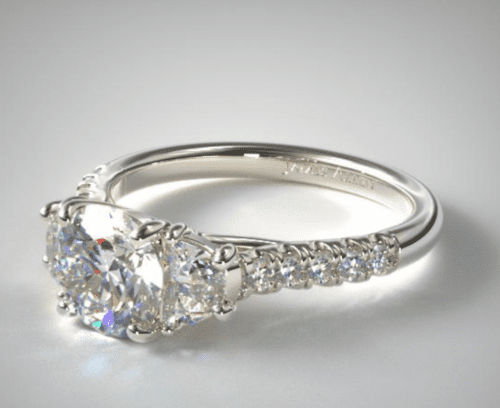 18k White Gold Three-Stone Trellis Half Moon Engagement Ring at James Allen
We hope that this article has helped you grasp a better understanding of what white gold is before making your final purchase. Learn more about white gold in our How to Choose Precious Metal for Engagement Jewelry wiki page. If you have any questions related to white gold or white gold jewelry- Let us know in the Comments section below.
Written by Bianca Mac Donald