Push presents are just one of many beloved milestone markers for PriceScopers. This push present, an engagement ring upgrade posted by PS Member, Linnie in the Show Me the Bling! forum is the Jewel of the Week!
Celebrating their 5th anniversary, they considered upgrading a few months ago. The current COVID-19 global pandemic held them off a bit, which turned out to be advantageous because they were able to expand their budget slightly. So they splurged a bit for a larger stone celebrating PS Member, Linnie's MS graduation, and the upcoming arrival of their second child. What an exciting time, and what better way to celebrate than with jewelry from Whiteflash.
STATISTICS
Carat Weight: 1.591ct
Color Grade: H
Clarity Grade: VS2
Setting: Whiteflash Tiffany-Style Setting
Diamond: Whiteflash ACA
Depth: 61.5%
Table: 55.4%
Crown Angle: 34.5
Star: 50.0%
Pavilion Angle: 40.8
Crown: 15.4%
Lower Girdle: 78.0%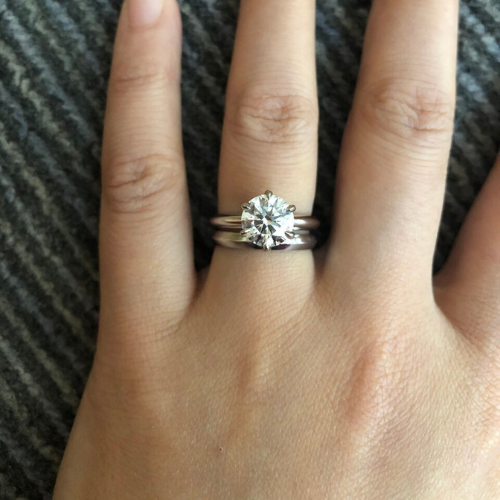 Congratulations on the new ring, graduating, the anniversary, and the upcoming arrival of your new born baby. On behalf of PriceScope- we are happy for you!
Join us in congratulating PS Member, Linnie on her new ring in the Comments section below.
Written by Kayti Kawachi