By PS Staff
If you're anything like us, you're trying everything to kill time until Game of Thrones (GoT) comes back to our screens . . . the plot lines, the scenery and the FASHION! Yet we can only binge watch the show for so long, so we decided to take a break and indulge our GoT addiction in another manner, by looking at three women from prominent houses and dreaming up what jewelry they would wear if they lived in our world.
House Stark
You've seen them soar, you've seen them fall and you've seen them rise again. Although their situations may change, one thing is for sure, their house's motto will not. Sansa is the current standard-bearer for Stark women after she showed that she can not only outsmart the smartest people in the room, but do it in style. It wasn't always like that however, in the beginning she was young and innocent, and her clothes reflected that. Now, she's older, wiser, hardened and sartorially grown up. And we love it.
Nothing says winter like icy diamonds and blue sapphires. Sansa is playing in the big leagues now and with winter finally arriving, she can put this on her wrist and show everyone who is the true Queen in the North.

Cushion Blue Sapphire and Halo Diamond Bracelet

at Blue Nile
Sansa's newfound regal bearing will not go unnoticed when she has these hanging from her ears. Her strategic prowess more than deserves these stunning princess cut earrings.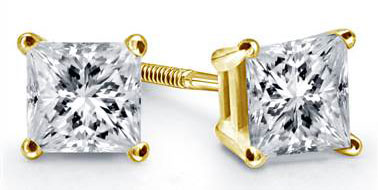 Princess Diamond Stud Earrings

at B2C Jewels
House Targaryen
Fan-favorite Daenerys Targaryen, aka Khaleesi, has striking good looks and learns quickly. Early in the series, she wore animal skins which left little to the imagination. Now she has adopted clothing which would not seem out of place in King's Landing. As the citizens they will soon learn, never count her out. Her experience liberating slaves in far-away locales has taught her a valuable lesson. Not to mention that being the Mother of Dragons has a few perks, namely three dragons of her own.
Daenerys Targaryen has shown her love of cuffs and simple jewelry. If it's not broke, she's not fixing it. This hammered cuff bracelet looks as if it was made by one of Westeros's finest metalworkers and it would be right at home on her arm.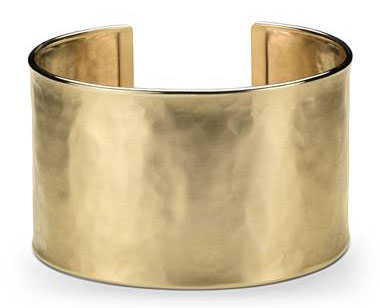 Hammered Cuff Bracelet

at Blue Nile
Khaleesi is the queen of minimalism, but that doesn't mean that she can't have some of the finest bangles in the Seven Kingdoms. We know this one would appear in her jewelry box. Hmmm . . . maybe she will wear it while she's on a transatlantic cruise heading home.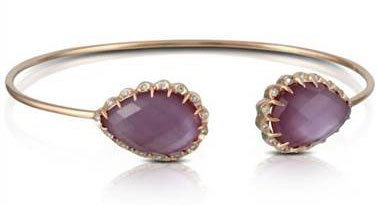 Amethyst Over Pink Mother of Pearl Cuff Bangle Bracelet

at Solomon Brothers
House Lannister
The name Lannister carries untold wealth and power. Citizens throughout the Seven Kingdoms know their name and why they should fear them. Right now Cersei Lannister is THE Lannister. She's royal by marriage, mother of kings and unabashedly ambitious. As a result, she dresses according to her station and piles on her jewelry. Now with no one standing between her and the throne, she's out to get what she came for and looking flawless while she gets it done.
Cersei Lannister sets trends. She no doubt would be ruling her kingdom wearing this trendy emerald and diamond bracelet.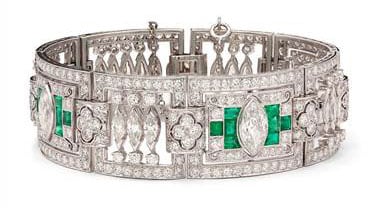 Art Deco Diamond and Emerald Bracelet

at Blue Nile
Cersei is an independent woman, so naturally she would have a right-hand ring worthy of her queenly status . . . and freedom. We think this one is right up her alley.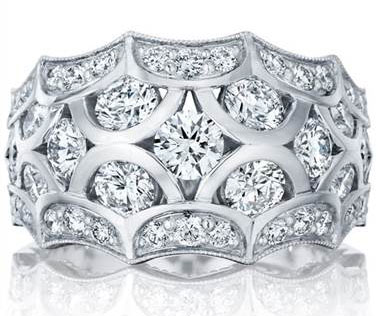 Tacori "Royal T Collection" Diamond Fashion Ring

at Solomon Brothers
Did we do it? Did we help whet your appetite for anything GoT? I know we're pretty satiated, at least for the next 48 hours. Can you blame us? We got to combine Game of Thrones and jewelry! We're not going to lie though, we can't wait to see what these women will be wearing when GoT returns to our screens and will definitely be keeping an eye out for their jewelry.
Visit our "Resources >> Jewelry Search" to browse for your favorite jewelry.