By Erika W.


Happy Birthday February Pricescopers!
Amethyst, the purple variety of quartz, has been valued for centuries. The ancient Greeks revered the gem as a totem of spirituality and healing, and amethysts can be found in crown jewels and religious relics around the world. Russia was once a significant source of fine amethyst until the early 20th century. Today, major sources of amethyst include Brazil, Zambia, Uruguay and Canada with additional sources in the US and Afghanistan. Amethysts are found in several tones of purple ranging from very light to very dark. Many seek medium dark – reddish purple to pure purple amethysts with strong saturation, but stones that display flashes of blue or violet are also popular.
Purple Passion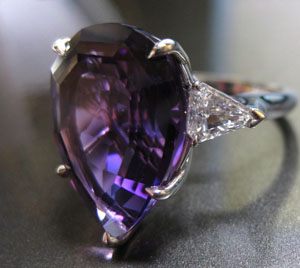 Posted by lovewhitediamonds
11.98ct Four Peaks Amethyst Ring by Leon
Pear cut amethyst from the Four Peaks mine in Arizona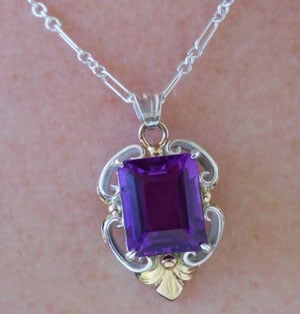 Posted by Sarahbear621
JKT Amethyst Suite
Emerald cut amethyst pendant in silver and 18k rose gold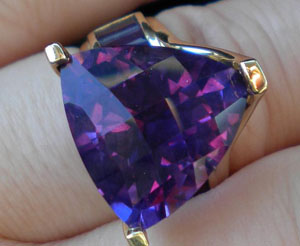 Posted by tourmaline_lover
Amethyst decision: HELP
13 carat triangular cut Zambian amethyst in yellow gold ring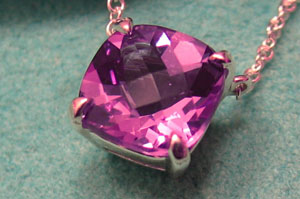 Posted by Dreamgirl
Dreamgirl's Tiffany & Co. Amethyst Pendant!
Sterling silver and amethyst pendant from the Tiffany Sparklers collection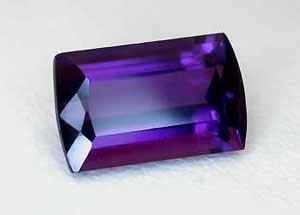 Posted by Richard M.
Amethyst decision: HELP
Loose Bolivian amethyst from Art Cut Gems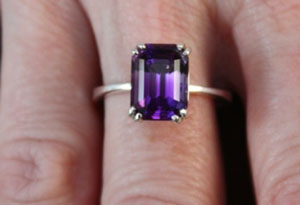 Posted by Burberrygirl
Barry Bridgestock Amethyst + Daniel M Ring
5.23 carat Uruguayan amethyst cut by Barry Bridgestock from Artistic Colored Stones
Related Topics:
Another line of amethyst questions for Amethyst Guy
Russian amethyst – my eternal dream…
Share your amethysts: Colored Stones Forum