Dee*Jay posted this unbelievable brownish-yellow diamond ring on the Show Me the Bling Forum at PriceScope. Dee*Jay is a name that most PriceScope members are aware of, a long time member and frequent poster! We re so lucky to have a community filled with fabulous members that are active and involved, and they share fabulous bling to boot!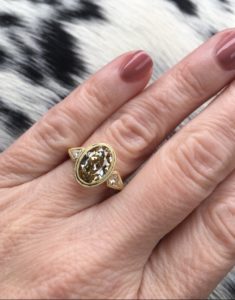 This 3.02 fancy brownish yellow diamond was purchased from Alex Park and set by David Klass. Those amazing kites really pull the focus to the incredible yellow diamond center stone.  I think I am a little in love with this ring, but I am just happy to live vicariously from here! The double milgrain is stunning, creating such a perfect frame.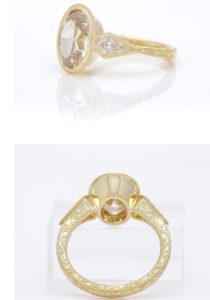 Congratulations Dee*Jay on another fab addition to the collection, and thank you for consistently sharing them with us!
Go see the sunshiney yellow diamond ring post with more pics!
The Jewel of the Week is our chance to feature and appreciate a recently posted piece from the Show Me the Bling Community!
Thank you so much for sharing your jewelry experiences with us. We look forward to seeing more!
#JOTW
Come show off YOUR fantastic bling with fellow jewelry lovers and trade professionals
Learn more about fancy colored diamonds from PriceScope