CharlotteYork originally posted this gorgeous emerald cut pendant on the Show Me the Bling forum at PriceScope. CharlotteYork's Grandmother gifted her a lovely emerald cut diamond ring; it was splendid, yet it unfortunately sat unworn in her jewelry box for years. Fab jewelry that spends time not being worn is a tragedy known to many PriceScopers. A transformation is often just the answer to get that stone back in the light.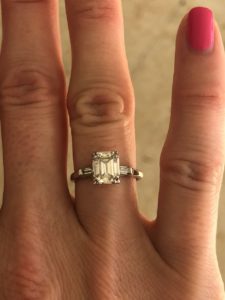 This emerald cut diamond was pretty amazing in it's original ring setting, as you can see. The new look is absolutely stunning and Mark Turnowski with Brilliantly Engaged really brought his A game. The halo lets that emerald cut sing,  while adding a whole new level of dazzling sparkle! Just fabulous, congrats on a stunning piece, CharlotteYork!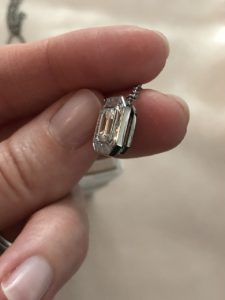 The Stats:
Emerald Cut Diamond
just over 1 carat
Clarity: VS2
Color: I-J
Go see the post with more pics!
The Jewel of the Week is our chance to feature and appreciate a recently posted piece from the Show Me the Bling Community!
Thank you so much for sharing your jewelry experiences with us. We look forward to seeing more!
#JOTW
Come show off YOUR fantastic bling with fellow jewelry lovers and trade professionals
Learn more about Emerald Cut Diamonds here!