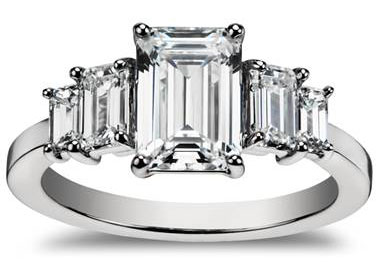 Four Stone Emerald Diamond Engagement Ring in Platinum

at Blue Nile
You guessed it, we love diamonds. We love them so much that we scour trade shows, fashion shows and talk to our Featured Sponsors to know what cuts and trends are heading your way. This yields a wealth of information; one of which is diamond cuts. There are quite a few cuts that have surged in popularity as well as a certain cut which appears will always be in style. What follows are the five most popular diamond cuts. Will yours make the "cut"?
Round Brilliant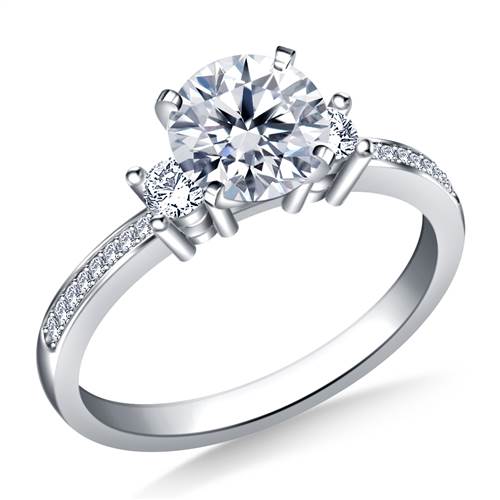 Petite Prong & Pave Set Round Diamond Engagement Ring in Platinum (1/5 cttw.)

at B2C Jewels
The round brilliant diamond is THE cut to end all cuts. If you're in the market for a timeless look, this is your cut. It also retains its value, but all other factors being equal, will cost more than a fancy cut diamond of the same carat weight. We included it here because even though it is far and away the most popular cut today and yesterday, it has seen a recent resurgence in popularity among celebs and regular women alike.
Princess Cut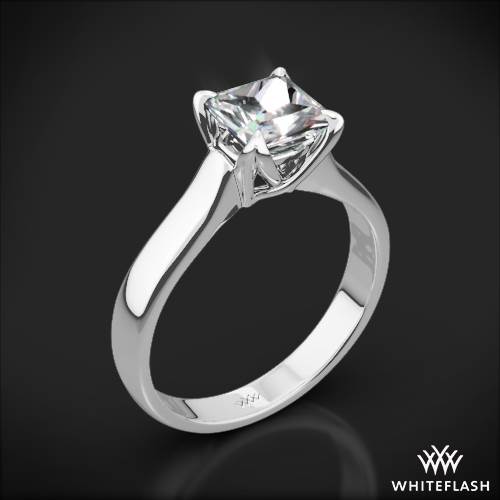 18k White Gold W-Prong Solitaire Engagement Ring for Princess

at Whiteflash
Who doesn't want to be a princess? Well apparently very few ladies, this princess cut is quite a hit this year. It is the more traditional cut compared to its other square counterparts (the Asscher and emerald cuts). They are quite versatile and work in nearly all types of settings which we are sure has lifted this to the most popular fancy cut among consumers.
Cushion Cut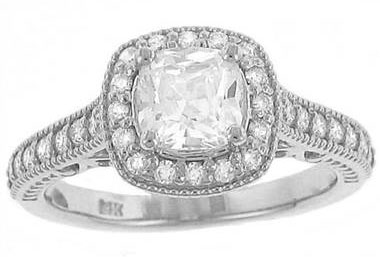 Solomon SER557-035B-5.5C-SPECIAL Cushion Halo Diamond Engagement Ring

at Solomon Brothers
The cushion cut is definitely the juggernaut of popular cuts. It was only a few years ago where one had to look high and low to get their hands on this cut. Now, most jewelers carry this cut in their stock. The cut is known for creating amazing brilliance and light and it's penchant for making romantic settings stand out even more.
Oval Cut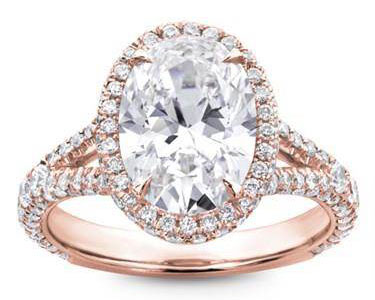 3 Row Pave Engagement Ring Setting

at Adiamor
If the cushion cut was the juggernaut of the past, then the oval cut is the juggernaut of today. The look is great for women with thicker fingers as the diamond's light and length has a lengthening and slenderizing effect. Not to mention that jewelers have paired this cut with modern settings to truly make this stone a cut above the others.
Emerald Cut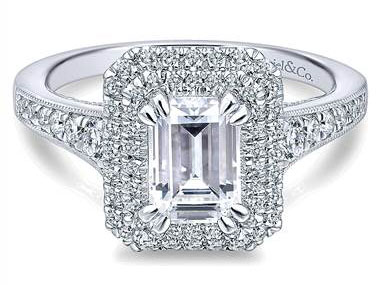 Gabriel & Co. 14k White Gold Diamond Double Halo Engagement Ring

at Gabriel & Co.
Emerald cut diamonds are a step above other fancy cuts, literally. The emerald cut is known for having a variety of steps within its facet, causing it to create an illuminating and reflecting effect. You won't have the brilliance of some of the other cuts, but don't count this one out. Its effect is very cool and with celebrities flocking to this look, you're bound to see it everywhere very soon.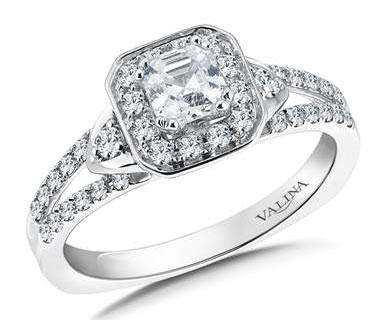 R9575W – Asscher cut shape halo mounting (0.35 ct. tw.)

at I.D.Jewelry
These are the cuts which have seen resurgence in popularity over the past year or continued to hold their spot as the top diamond cut. However, there is quite a bit of competition for the top spot and the fancy cut diamonds are leading the way. We're excited to see which cut will end up on top, but the real winners are the people who get to wear any of these cuts.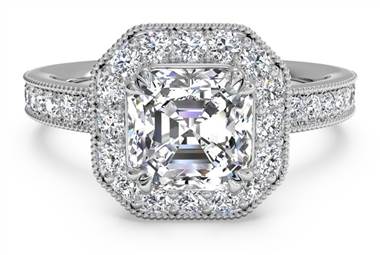 Vintage Halo Diamond Engagement Ring with Surprise Diamonds – in Platinum (0.40 CTW)

at Ritani
Visit our "Resources >> Jewelry Search" to browse for YOUR favorite engagement rings.
By PS Staff