Le Vian YPYI268 Le Vian® Halo Style Diamond Engagement Ring

at Solomon Brothers
White diamonds, long known for being the standard-bearer when one thinks of diamonds. However a few years ago, white diamonds started to have stiff competition in the diamond marketplace. This is because people began to become excited about fancy colored diamonds. Fancy colored diamonds were once only sold at the legacy jewelers, Graff, Harry Winston and Van Cleef and Arpels; but today, one can walk into his or her local mall and walk out with a colored diamond. As a result, we have decided to take a little peek at what gives the most popular colored diamonds their allure.
Chocolate, Cognac & Champagne Diamonds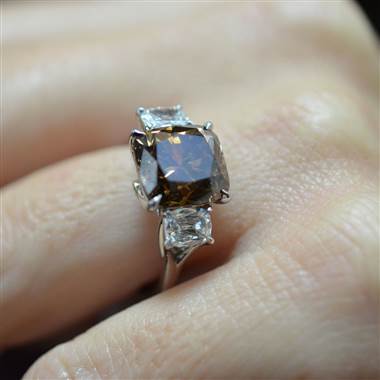 5.06ct Cushion Cut Chocolate Diamonmd with Cushioned Cut White Diamond Side Stones Hand Made Setting in 18kt White Gold

at I.D.Jewelry
Can you believe that people used to ignore these chocolate beauties? It could be because these are the most common fancy colored diamonds in the world. This allows chocolate diamonds to be eminently more affordable than any other fancy colored diamond. Do not take them for granted though. The industry has noticed their popularity and now one can find many gem-grade chocolate diamonds on the market.
Pink Diamonds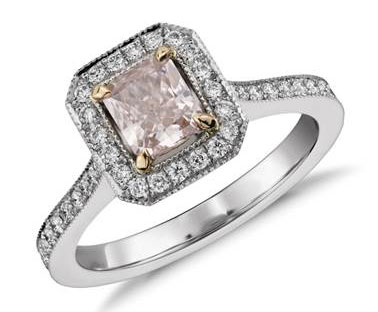 Radiant Cut Fancy Light Pink Diamond Halo Ring in Platinum (0.62 ct. center)

at Blue Nile
Pink diamonds were thrust into the spotlight when Ben Affleck and Jennifer Lopez became engaged. Then, all anyone could talk about was her 6.1 carat $2.5 million Harry Winston pink diamond engagement ring. Sadly, marriage wasn't in the cards for them but her engagement ring went down as one of the most iconic engagement rings in history. Pink diamonds are extremely rare and it will require investigative skills and deep pockets to own one, we can't blame anyone for trying to put one of these beauties in their jewelry box.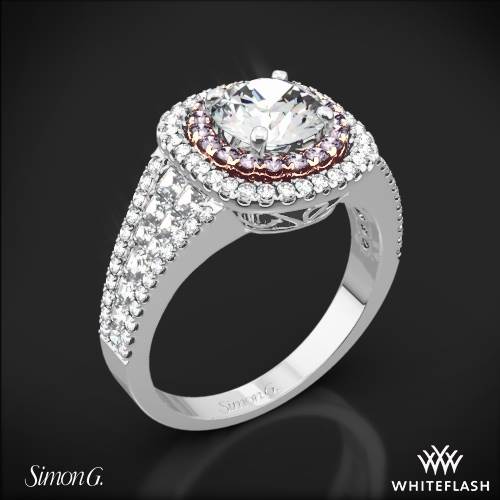 18k White Gold Simon G. MR2453 Passion Double Halo Diamond Engagement Ring

at Whiteflash
Yellow Diamonds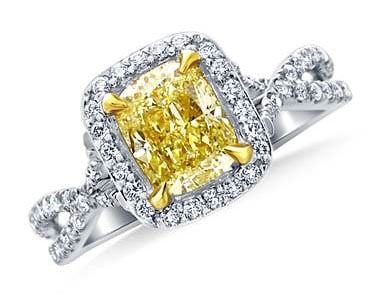 Fancy Light Yellow Canary Cushion Cut Diamond Crossover Twist Ring in 18K White Gold

at B2C Jewels
Yellow diamonds are the most popular fancy colored diamonds on the market and with good reason. They have captivated society by their intense hues. Fortunately, you don't have to sell your firstborn to own one. Yellow diamonds' value increases according to intensity, therefore a fancy light yellow diamond will cost less than a fancy vivid yellow diamond. There are plenty of yellow diamonds for everyone because much like chocolate diamonds, yellow diamonds are the second most common fancy color. Thus, you can definitely find a stunning yellow diamond within your budget.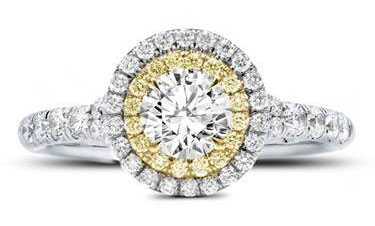 Yellow and White Diamond Double Halo Setting

at Adiamor
We have to be honest, we love colored diamonds. They're traditional diamonds with a twist and when you pair them with white diamonds, watch out! The extra bit of sparkle will cause people to sit up and take notice. However, we PriceScopers are used to all the attention our jewels receive.
Visit our "Resources >> Jewelry Search" to browse for YOUR favorite engagement rings.
By PS Staff