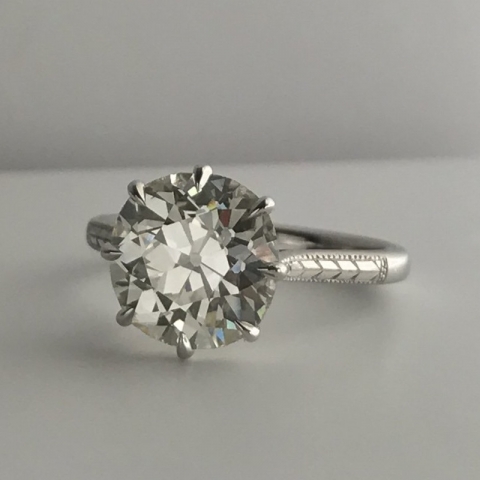 The Divine Miss M
EC8 shared her incredible Engagement Ring upgrade with us on the Show Me The Bling Community at PriceScope.com, For the Jewel of the Week, we always look for something breathtaking and luckily the PriceScope community members never disappoint! This is simply marvelous, and the name is brilliant! I love Better Midler, so I thought giving something this gorgeous that name is excellent!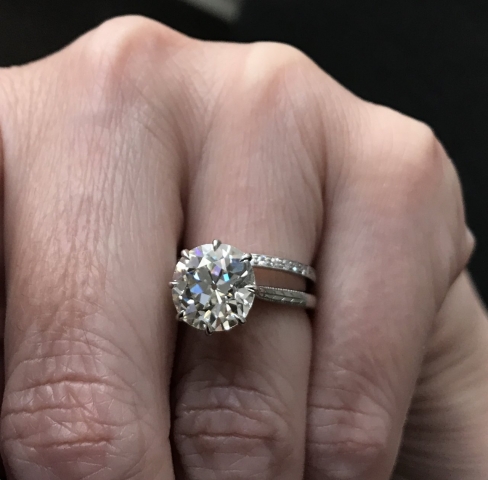 Cushioney OEC at home on her finger
EC8 first went looking for an Antique Cushion Cut, but Adam at Old World Diamonds led her to this stunning "Cushioney OEC", when she realized that her tastes were leading her to the faceting of an OEC. EC8 in incredibly happy with the remarkable bench work that went into creation of her custom setting design, and I agree with her! Congratulations EC8, that is fabulous and I hope you enjoy it in health and happiness for many years to come!
The Stats:
3.35 ctw OEC
VS2
M Color (Divine M, indeed)
Want to see the entire post with more pics? Follow this link!
The Jewel of the Week is our chance to feature and appreciate a recently posted piece from the Show Me the Bling Community!
Thank you so much for sharing your jewelry experiences with us. We look forward to seeing more!
#JOTW
Love the look of Antique Diamond Jewelry? Learn more about Antique Rings, here./a>,
Come show off YOUR fantastic bling with fellow jewelry lovers and trade professionals in the Show Me The Bling Community at PriceScope.