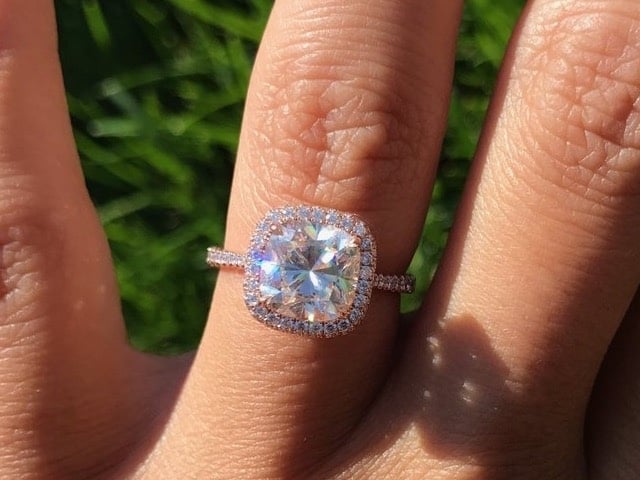 2+ ctw Cushion Brilliant Engagement Ring from Brilliantly Engaged
Jayb52 shared the ring that his fiance said YES to with us on the Show Me The Bling Community at PriceScope.com. For the Jewel of the Week, we always look for something breathtaking and luckily the PriceScope community members never disappoint! WOW! That is a stunning ring! I am so glad that she said yes and gets to wear that forever, because I can't imagine wanting to take that off. It might prove a little distracting though, because I would want to stare at it all the time!
Another angle of this gorgeous ring!
Jayb52 is a NY local and so has a wealth of amazing jewelry options available to him! He decided on using Brilliantly Engaged to create the ring that would mark such a huge life milestone! Congratulations on your engagement and really excellent choices made in the creation of this dazzler! May she wear is with health, wealth, and happiness for many years to come!
The Stats:
2.32 ct Cushion Brilliant Cut Diamond
SI2
I Color
Two rows of pave on the halo
Want to see the entire post with more pics? The bling is in here.
The Jewel of the Week is our chance to feature and appreciate a recently posted piece from the Show Me the Bling Community!
Thank you so much for sharing your jewelry experiences with us. We look forward to seeing more!
#JOTW
Getting ready to pop the question? Get proposal ideas, here.
Come show off YOUR fantastic bling with fellow jewelry lovers and trade professionals in the Show Me The Bling Community at PriceScope.