By Erika W.
Retail Diamond Prices Stable in April
Retail diamond prices remained stable through April 2012. Pricescope tracks retail diamond prices each month from a database of over 450,000 diamonds.
Retail Diamond Price Percentages for April 2012
0 to 0.5 ct up 1%
0.5 to 1.0 no change
1.0 to 2.0 ct down 1%
2.0 to 3.0 ct down 1%
3.0 to 4.0 ct down 1%
4.0 to 99 ct down 1%
Pricescope Updated Diamond Price Chart
The Pricescope diamond price chart illustrates a 1% increase in retail prices for diamonds of 0 to 0.5 carats. Prices decreased by 1% for diamonds of 1.0 to 99 carats. There were no retail price changes for diamonds of 0.5 to 1.0 carats during the month of April. Pricescope has been charting retail diamond prices since 2007.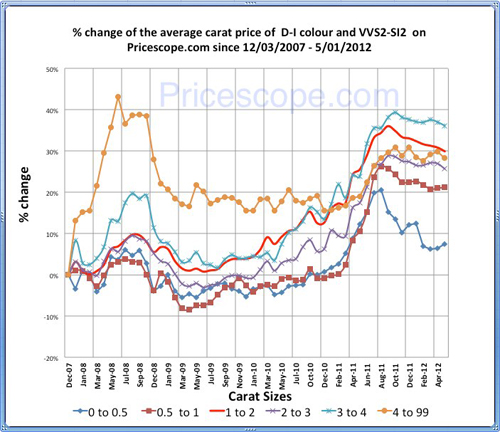 IDEX Online Research: Polished Prices Hang On
Polished diamond prices were largely stable in April. While this would usually be good news, a closer look reveals hints of possible price declines.
Rapaport: April Certified Polished Diamond Prices Stable With Low Trading Volume
Certified polished diamond prices were stable in April although trading remained weak. Activity in the diamond trading centers slowed as diamantaires took a break during the Passover and Easter holidays.
Polished Prices: Polished prices slide further in April
The downward trend in polished diamond prices which began last August continued through April.
Bloomberg: Graff Diamonds Said to Win Nod for $1 Billion H.K. IPO
Graff Diamonds Ltd. gained approval from Hong Kong's stock exchange for a plan to raise as much as $1 billion in an initial public offering
Related Topics:
Diamond Prices News Roundup – March 2012
Retail Diamond Price Statistics