Retail Diamond Prices Steady in May
Retail diamond prices remained steady through May 2012. Pricescope tracks retail diamond prices each month from a database of over 450,000 diamonds.
Retail Diamond Price Percentages for May 2012
0 to 4.0 carats: no change
4.0 to 99 carats: up 1%
Pricescope Updated Diamond Price Chart
The Pricescope diamond price chart illustrates a 1% increase in retail prices for diamonds of 4 to 99 carats. There were no retail price changes for diamonds of 0 to 4.0 carats during the month of May. Pricescope has been charting retail diamond prices since 2007.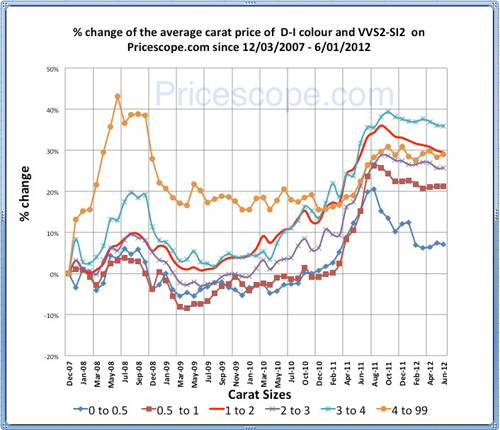 IDEX Online Research: Flat Polished Prices with a Silver Lining
While prices were stable though most of May, in the last few days of the month – and into June – prices started to edge up just before the Las Vegas shows started.
Rapaport News: May Certified Polished Prices Hold Steady
Certified polished diamond prices were steady during May in a weak global environment.
Rapaport Market Comments 6/7/2012
JCK Las Vegas show exceeds low expectations with very good U.S. demand for affordable VS-SI certs and commercial goods.
Diamond Prices to Stagnate in 2012 on Euro Crisis, BMO Forecasts
Rough diamond prices are set to remain at current levels for the rest of the year as the European debt crisis saps demand, BMO Capital Markets forecast.
Polished Prices: Polished prices continue to slide
The downward trend in polished diamond prices, which began last August continued through May.
Related Topics:
Diamond Prices News Roundup – April 2012
Retail Diamond Price Statistics