By Erika W.
Retail Diamond Prices Steady in March
Pricescope charted few changes in retail diamond prices for March 2012. Prices are based on vendor listings of over 450,000 diamonds in the Pricescope database. The price chart is updated monthly.
Retail Diamond Price Percentages for March 2012
0 to 0.5 ct no change
0.5 to 1.0 no change
1.0 to 2.0 ct no change
2.0 to 3.0 ct no change
3.0 to 4.0 ct down 1%
4.0 to 99 ct up 1%
Pricescope Updated Diamond Price Chart
The Pricescope diamond price chart illustrates a 1% decrease in retail prices for diamonds of 3.0-4.0 carats. Prices rose by 1% for diamonds of 4.0-99 carats. There were no retail price changes for diamonds of 0-3.0 carats during the month of March. Pricescope has been charting retail diamond prices since 2007.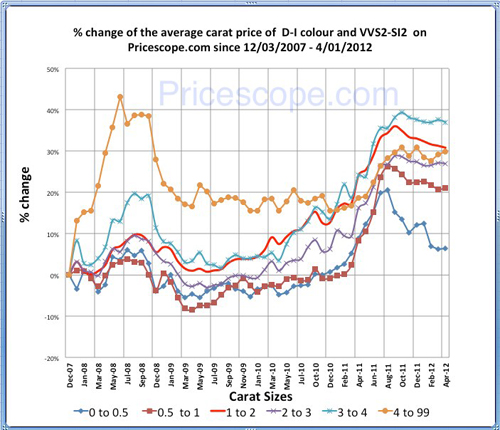 IDEX Online Research: Polished Diamond Prices -0.1% in March
The average price of polished diamonds was largely unchanged in March with loose diamond wholesalers trying to generate business in a lukewarm global economy.
Rapaport Research News: Market Comments 3/29/2012
Polished markets quiet but prices strong. Small DTC March sight estimated at $520M with prices +2% as sightholder contracts end.
Polished Prices: Polished downward trend continues in March
Diamond prices continued to drift downwards in March.
Israel Diamond News: Report: Demand for Diamond Jewelry in China Strong
Demand for diamond, gold and platinum jewelry in China is very strong, according to new report released by a local business intelligence portal.
Bloomberg: Alrosa Says Diamond Stocks Best Bet to Gain From Gem Demand
OAO Alrosa (ALRS), Russia's state-run mining company, sees buying shares in diamond producers as the best way for investors to benefit from gem prices that are rising for a fourth year.
Related Topics:
Diamond Prices News Roundup – February 2012
Retail Diamond Price Statistics
Rio Tinto and BHP Billiton Un-Friend Diamonds…and Other Jewelry News