By Erika W.
Some of the latest stories in diamond and jewelry news…
The price of gold has hit a new record high of $1,615 an ounce as concerns grow about the delay in US Congress agreeing a new debt ceiling. Read the article at BBC News.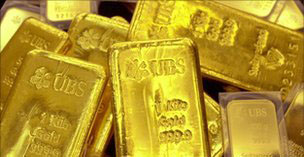 Getty Image – BBC News
The head of the one of the world's largest currency funds predicted gold will hit $1,900 an ounce by later this year, in an July 20 interview with Bloomberg. Read the article at JCK Online.
Volcanoes have coughed up ancient diamonds from hundreds of kilometers beneath the Earth's surface. Their trace impurities provide some priceless information about the first shifts in plate tectonics. Read the article at Scientific American.
A jeweler in Great Falls has been charged with larceny after police say he took diamonds from customers' rings and replaced them with cheaper stones or even glass. Read the article at Washington Post.
Most New Yorkers know 47th Street, the main thoroughfare of the Diamond District, a micro community of storefronts with fluorescent-lit window displays overflowing in diamonds, gold and gemstones. Men stand out front calling, "Gold and diamonds, we buy gold and diamonds," and urging customers to enter. What New Yorkers don't know is that 90% of all diamonds that enter the U.S. pass through this district. Read the article at wsj.com.
She already wears Princess Diana's sapphire and diamond engagement ring. Now the Duchess of Cambridge has another heirloom from her husband's late mother.
Prince William has given her a pair of Diana's favourite earrings, also in matching sapphire and diamonds.
Read the article at dailymail.co.uk.
Related Topics:
Diamond and Jewelry News Roundup – June 2011
Gold Price hits new high – $1,500
Diamond Prices News Roundup – June 2011
Discuss diamond and jewelry news on the Forum