By Erika W.
Retail Diamond Price Increases
Pricescope updates the Diamond Price Chart every month to illustrate actual retail diamond prices for consumers. Following rough diamond price increases, retail prices rose 3-8% in June.
Pricescope Updated Diamond Price Chart
The Pricescope diamond price chart shows a 3-8% increase for most carat weights. Pricescope has been charting retail diamond prices since 2007.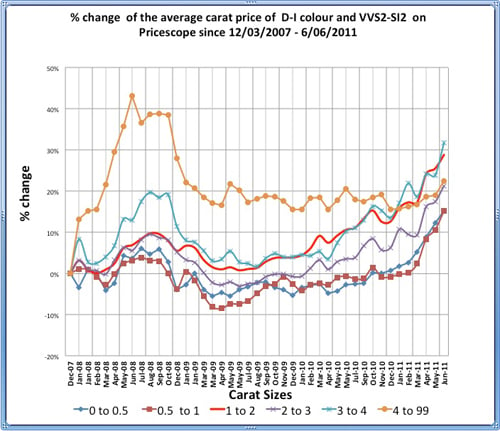 The IDEX Online Polished Diamond Price Index set a record Monday, crossing 142.25, the highest level the Index reached since its introduction in July 2004. Read the article at Idex.
Market notes from Edahn Golan – Let's examine the market: Polished diamond prices are racing upwards. In the past month the price index is practically shooting straight up, rising at 13.7% in the past three months, based on monthly averages and up by 21.4% between January 1 and today. Read the article at Idex.
Diamond prices rose to $11,012 this week from $10,340 a week earlier, according to the Rapaport Diamond Trade Index. Read the article at Bloomberg.
Wink Jones of High Performance Diamonds discusses a 7-8% diamond price increase. Read the latest on the Forum.
Related Topics:
Price Increases vs. Online Savings
Price increases and "underinsured" status
Follow up on the Diamond price jump
Diamond Prices News Roundup – May 2011
Discuss rising diamond prices on the Forum