By Erika W.
Lab-grown diamond production could hit one million carats by the end of the decade, Gemesis CEO Steven Lux announced at the GIA Symposium May 31. Read the article at JCK Online.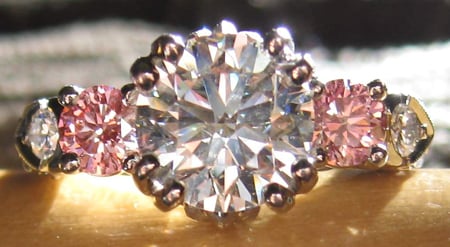 Synthetic pink diamonds posted by luckylux
Synthetic diamonds generally have the same chemical composition and crystal structure as natural diamonds. Synthetics should not be confused with simulants, which have different optical and physical characteristics. To learn more about synthetic diamonds please visit: Laboratory-Grown Diamonds /Man-Made Diamonds (MMD)
Alexander Amosu has unveiled a $20,000 Blackberry. Read the article at Forbes.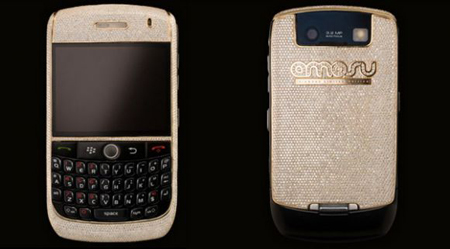 Amosu Diamond Blackberry
New laser inscribed barcode pendants from PhotosScribe connect people on Facebook. Read the article at israelidiamond.co.il.
Tiffany & Co. has introduced a new website and app titled What Makes True Love. "The website and app are designed as the go-to resource for romantics everywhere." Read the article at Diamonds.net.
De Beers Diamond Jewellers (DBDJ) opened its first store on Mainland China as it looks to capitalize on growing consumer demand for diamonds in the country. Read the article at Diamonds.net.
The South African Diamond & Precious Metals Regulator (SAD-PMR) has decided to accept imports of rough diamonds from Zimbabwe, the organization said this week in a communique. Read the article at israelidiamond.co.il.
Related Topics:
Diamond Prices News Roundup – May 2011
Rough Diamond News Roundup – April 2011
Diamond Prices News Roundup – April 2011
Diamond Prices News Roundup – March 2011
Discuss diamond and jewelry news on the Forum