On Thursday, 23rd July 2020 news got out that American singer, songwriter Demi Lovato (27), and former Young and the Restless actor Max Ehrich (29) got engaged in Malibu, California. We can not get enough of the ring! There is much speculation on the carat weight of the Three-Stone Emerald Cut Engagement ring so we're going to breakdown what industry experts had to say. 
COVID-19 AND LOVE
It seems like the current global pandemic has brought about some positivity with regard to unity, gratitude, and the love we have for one another. COVID-19 has made us realize that our time on earth is limited. We should prioritize our time for those who matter most. We have seen a streek of wedding proposals and wedding vowel renewals over this period. COVID-19 may have canceled many things but the one this it hasn't canceled is Love. 
LOVATO AND EHRICH'S LOVE AFFAIR
In March 2020, Lovato and Ehrich's relationship went public. Within four months of quarantining and vacationing around California, Ehrich knew that he wanted to spend the rest of his life with Lovato. Ehrich captioned in an Instagram post, "I cannot spend another second of my time here on Earth without the miracle of having you as my wife." Ehrich knew very early into their relationship that he wanted to marry Lovato but had to wait until her engagement ring custom setting was finished.
THE RING THAT GOT THE "YES!"
Ehrich knew exactly what ring he wanted to get Lovato as it is nearly identical to the engagement ring that Lovato wore in her 2018 "Tell Me You Love Me" music video.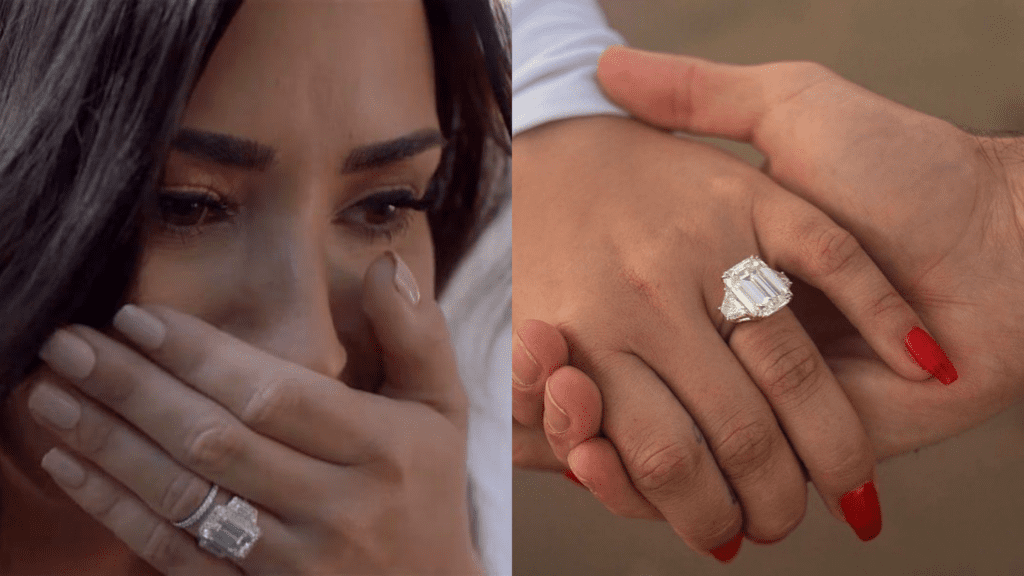 Lovato's stunning engagement ring is a Platinum Three-Stone Emerald Cut flanked with Diamond Trapezoids. The ring is designed by Hollywood Celebrity Jeweler, Peter Marco. Sources tell us that Ehrich purchased the Emerald Cut center-stone beforehand and got Marco to design a custom Platinum setting. The total carat weight of the ring has not yet been confirmed but industry experts estimate it to weigh approximately 9.5 – 11.5 carats with an estimated price tag of $450,000 to $850,000. 
EMERALD CUT ENGAGEMENT RINGS
Beauty and Precision are two words that best describe emerald-cut diamonds. The Three-Stone Emerald Cut flanked with Two Diamond Trapezoids is a popular choice for engagement rings especially amongst celebrities. This timeless style is seen on the wedding fingers of the Duchess of Sussex, Megan Markle, Jennifer Lopez, Amal Clooney, and Jennifer Lawrence to name a few. 
Learn more about Emerald Cut Diamonds.
"Three-Stone Rings like Demi's hold symbolic meaning and represent the Past, Present, and Future of a relationship." -Shannon Delany- Ron (Director of Communications at James Allen)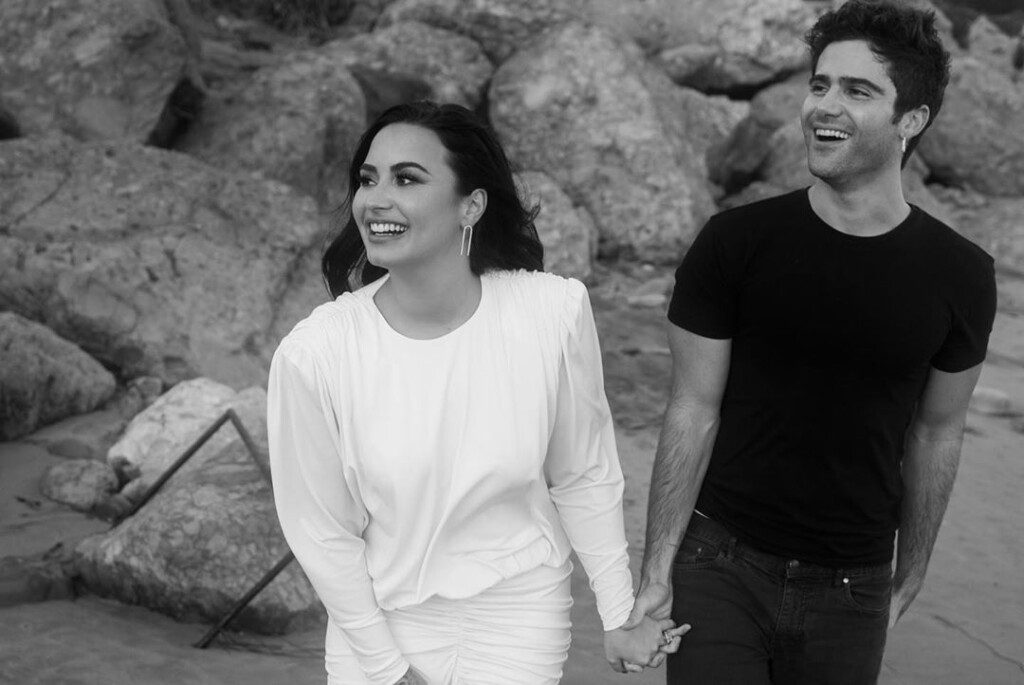 Congratulations to the newly engaged couple! 
Let us know what you think of the ring in the Comments section below. 
Written by Bianca Mac Donald