Not all engagement rings were made equal, and many antique styles look quite different from today's most popular engagement ring styles. Glueck shared her gorgeous antique engagement ring and their beautiful story, and we have chosen this ring for Throwback Thursday!
FAIRY TALE WEDDING PROPOSAL
This is a fairy tale wedding proposal come true. Glueck got proposed at the Neuschwanstein Castle during a surprise trip to Füssen, Germany. The Neuschwanstein Castle is notorious for being the inspiration behind Walt Disney's Sleeping Beauty Castle. Glueck said YES! to an Antique Platnium OEC Diamond Engagement ring.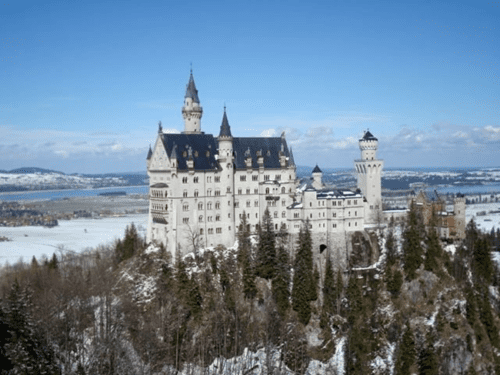 ANTIQUE ENGAGEMENT RING
Now let's focus on the ring. Different to most engagement rings nowadays, Glueck's ring is definitely unique and I can't help but get lost in the intricate detail of the setting. This antique beauty is covered in delicate filigree with a sparkling OEC positioned in the center. I got swept away in the magic of the whole story!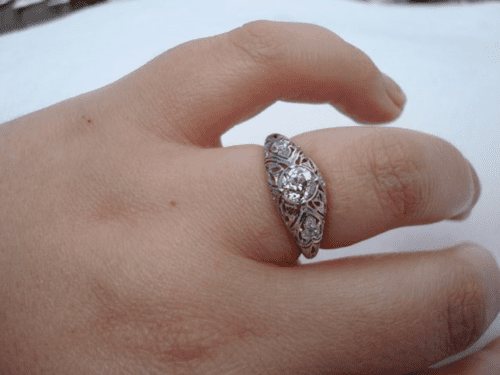 THE STATISTICS:
OEC Diamond set in a Platinum Setting
Total Carat Weight: 0.73 (Center Stone and Four Small Cuts in the Setting).
Color Grade: J
Clarity: VS1
Visit the original post with more pics and join me in congratulating Glueck!
On Throwback Thursdays, we celebrate beautiful jewelry pieces that have been shared on the PriceScope forums over the years! Join Us next Thursday as we pull out yet another post from our archives.
Interested in Antique cuts? Browse through this thread to see what PriceScopers have posted over the years.
Written by Kayti Kawachi of PriceScope Inc.