By
Erika Winters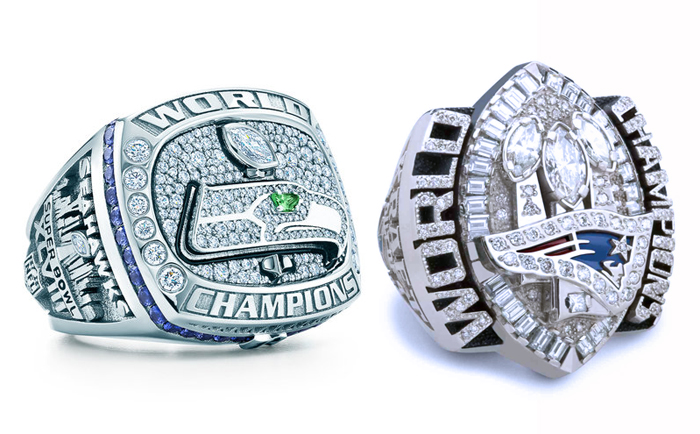 Seahawks vs. Patriots: Which Super Bowl ring do you like better?
On Sunday, February 1, the Seattle Seahawks and the New England Patriots are set to play in one of the most anticipated Super Bowl games in NFL history. The Seattle Seahawks have a chance to win for the second time in a row, as the team scored its first Super Bowl victory last year. The New England Patriots won the championship back-to-back in 2003 and 2004, and the team has won a total of 3 Super Bowl games.
But what about the rings? Naturally, fans prefer their own team's massive, crushing Super Bowl rings. But purely from a style perspective, which do you prefer? For the purposes of this blog, we are comparing the overall features from each team's last Super Bowl win. So let's take a look at these ring stats, shall we?
Seattle Seahawks Super Bowl XLVIII Ring (pictured top left) • The Seahawks' rings were created by Tiffany & Co., and each ring took about 45 hours to make. The white-gold rings showcase the team's logo on the front outlined in blue with diamonds and a tsavorite garnet. Twelve diamonds surround the logo, representing the eleven players on the field and the Seahawks' "12th Man," which represents the spirit of the fans on the field with the team. See more pictures here.
New England Patriots Super Bowl XXXIX Ring (pictured top right) • The Patriots' rings were made by Josten in 14k white gold and weigh approximately 100 grams each. Today they are valued at around $65,000 as collector's memorabilia according to Championship-Rings.net owner Timothy Robins. The tops of the rings pay homage to the football's distinctive shape. And the rings commemorate the team's three championship wins by echoing the shapes of three Vince Lombardi Trophies set with marquise-cut diamonds. The Patriot logo is emblazoned on the front with blue and red enamel. See more pictures here.
Which Super Bowl ring do you like better? Cast your vote!
Related Blog Topics: